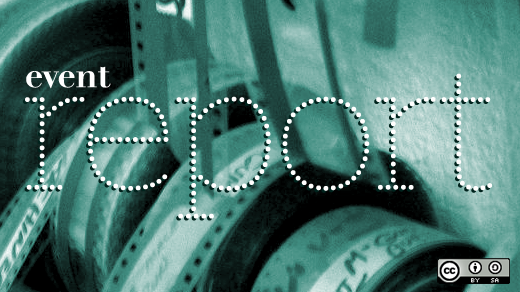 Opensource.com held its first Youth in Open Source Week from January 13 - 17, 2014. Articles published during this time were focused on how kids and teens are using open source today and how we can get more young people involved in open source.
We announced this series by publishing an article on Friday, January 10, 2014. This article was updated throughout the week as new articles were published. It now contains the full list of articles published for Youth in Open Source Week (YOSW).
During the week of January 13 - 17, we published nine articles as part of the series. We also published three regular articles for a total of 12 articles published during that week.
Goals
Our goal for publishing a series of themed-content is to increase readership as well as contributor and social engagement.
In many cases we refer to these artilces as "themed-content" and part of "a series." Our hope for publishing themed-content over the course of one week (or two weeks, as in future cases) is to attract readers and contributors who care about the theme. In order for the number of readers and contributors to be of a great enough volume for an initiative like this to be worth it, we chose topics that are highly relevant and interesting to our audience.
Audience
Typically, Opensource.com sees high readership and high social engagement on articles relating to open source in education. To break this broad category down even further, we focused on authors who could write about experiences relating to the following:
Linux
coding and programming (events and projects)
tools and programs (like Raspberry Pi and Scratch)
how to implement open source in schools
how to get started with open source
open source startups and businesses
open source gaming
Key learnings
We recorded page views for each article in the series from when it was published to February 3, 2014. This gives us a 2-3 week view of how these articles performed. We also took note of various stats to help us better understand how we engaged with new and existing contributors as well as social media engagement.
Things we did not do for YOSW that we will do for future themed-content series:
Track how each individual article performs on the day of publication and one week after publication.
Add a call-out box to each article to label it as part of the series.
Create a new hashtag to use just for the series so that our Twitter followers and others can follow along.
Expand the series to two-weeks, as we found we had many more stories we could have gathered.
Metrics
(from date published to February 3)
 Page views for each article in the series
Four Linux distros for kids: 8918 page views
Four projects for parents to teach their kids about open hardware and electronics: 3,046 page views
What open source means to a young programmer: 2886 page views
Trust your students with open source: 2019 page views
Coding adventures and contributing to open source with CodeCombat: 1686 page views
How computer science teachers can better reach their students: 1679 page views
The Digital Girl of the Year dreams of dancing with robots: page 1467 views
Youth in Open Source Week (announcement article): 1000 page views
On Europe's first Code Week with Irish Ambassador Julie Cullen: 772 page views
Dave and Gunnar interview Lauren Egts: Raspberry Pi, Scratch, and more: 392 page views
Total page views for all articles in the series combined: 22,865 page views
Referrers for overall site traffic
We had 16% of our referrers from social media and 20% from other websites. This can be compared to an average week in 2014: 13% social, 19% other.
Top 5 referrers:
Contributor engagement
We added three new authors:
And, five exisiting contributors authored stories:
Social engagement
We looked at Total Reach because that emcompasses both the quantity of reshares and how many people followed the person who reshared an article or message.
Twitter

YOSW tweets consisted of over half of our highest engaging material. Of the top Highest Total Reach tweets, half of them were YOSW tweets.
Top tweets:
Facebook

Of the five FB messages we posted during YOSW, the second highest reach was a YOSW message. We posted two messages related to YOSW during that week (January 13 - 17). They are:
Electronics projects and open hardware companies for kids: 32 likes, 7 shares, 4000 people saw this post.
Linux users come in all ages: 52 likes, 13 shares, 4800 people saw this post.
---
We welcome your feedback ad perspective on our first Youth in Open Source Week.
Jen leads a team of community managers for the Digital Communities team at Red Hat. She lives in Raleigh with her husband and daughters, June and Jewel.

This work is licensed under a Creative Commons Attribution-Share Alike 3.0 Unported License.