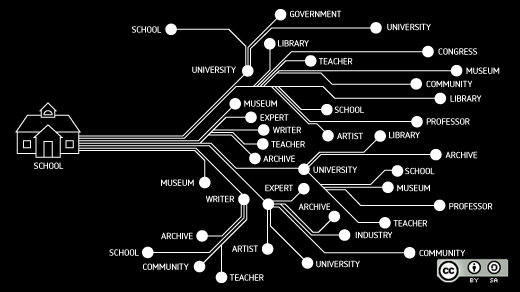 One of the best sessions at the Big Ideas Fest education conference in California last week was delivered by Hal Plotkin, a senior policy advisor in the US Department of Education.
What could be more fascinating than watching a high school dropout explain how open textbooks, sponsored by the US Government, might be used a tool of the administration to rebuild America's credibility with the world?
The belief in the potential of the open textbook model runs deep in Washington right now, and the clearest indicator of that belief is probably Bill S. 1714: Open College Textbook Act of 2009.
Go read it. Unlike most bills, it's short and sweet -- at least, it is for now, since it's freshly written and sitting in committee. To be specific, it's sitting in the US Senate Committee on Health, Education, Labor and Pensions -- or HELP for short, haw haw!
If you're interested in the continuing progress of this bill, there are a couple of things you can do.
TODO the first: you can subscribe to the bill at govtrack.us. This is a seriously awesome step forward in the transparency of government; if there's a bill that you care about, you can be notified whenever there's any activity regarding that bill just by subscribing to the bill's RSS feed.
Unfortunately, nothing has happened with this bill since its initial reading on September 24th, 2009, and its subsequent referral to committee. Since most bills never make it out of committee, citizens who want to see this bill passed should advocate directly to senators on its behalf.
Which brings us to TODO the second: take a look at the members of the committee and see if any of them are from your home state. As it happens, both of my senators (Kay Hagan, D-NC and Richard Burr, R-NC) are on this committee. How lucky! If one of your senators is on the committee, send an email to their office and ask the status of the bill. Is it undergoing active discussion? Are they planning on bringing it to the floor any time soon? And so on. If you express interest, you may very well get a direct response. I received a phone call from Senator Burr's office upon my initial letter to him; a staffer called to let me know that the bill had come into his committee. So they are definitely listening.
Most people say that government doesn't work for the people -- but most people never give it an honest shot. If you care about Open Textbooks, this is your chance to get involved directly. When constituents talk, senators listen; I've got the voicemails to prove it.
Greg DeKoenigsberg is the Vice President of Community for Ansible, where he leads the company's relationship with the broader open source community. Greg brings to Ansible over a decade of open source product and community leadership, with the majority of this time spent building and leading communities for open source leader Red Hat.

This work is licensed under a Creative Commons Attribution-Share Alike 3.0 Unported License.