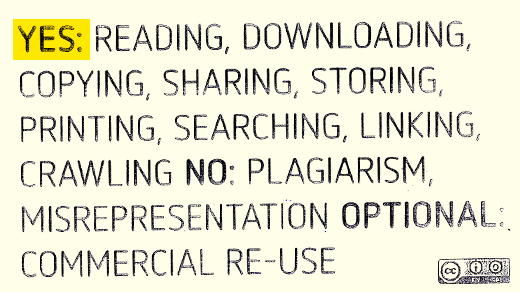 The ever rising cost of academic journals is a major burden for researchers. Academic libraries cannot always keep up with increases in subscription fees causing libraries to drop journals from their collection. This makes it harder for students and professors to quickly and easily access the information they need. Inter-library loan requests are an option but they do take time. Even if it only takes a few days to fill an inter-library loan request, that is still time wasted for a researcher that has a deadline. While there is no single, quick fix to the problem with the academic journal prices, there is a movement applying the open source way to academic research in an attempt to solve the problem—the open access movement.
The goal of open access is to make research freely available upon publication or soon thereafter. Quite often the journal articles are licensed under some form of Creative Commons license or something equally permissive. Placing the journal articles under a license designed for sharing allows them to be hosted on sites other than the journal's website or a paid database. An article published in an open access journal can be included in the institutional repository of the author's university, which increases the number of places an article can be discovered and read by people. Absurdly, that is not always possible with works published in non-open access journals.
This year, October 20-26 is Open Access Week, an annual event that serves to educate people about the need for open access and to celebrate success stories. In honor of Open Access Week, I would like to share five open access academic journals that cover topics that are of interest to open source advocates and enthusiasts. All five off these journals are listed in the Directory of Academic Journals, which is a wonderful resource for finding open access research. So be sure to check the Directory of Open Access Journals for your research needs, and if you are a researcher, consider submitting your work to a relevant open access journal.
First Monday
First Monday is one of the earliest open access journals about the internet and technology. The first issue of First Monday came out in the spring of 1996, and to date the journal has published 221 issues and over 1400 articles. Almost 2000 different authors have been published in First Monday. The list of contributors includes Eric S. Raymond and many other big names in open source.
New issues of First Monday are released on a monthly basis, on the first Monday of the month. This month's issue focuses on digital music distribution after Napster. The 13 articles in the issue cover a variety of music related topics. You will find articles that examine piracy alongside articles that explore Jazz and Indian regional music. November's issue will deal with the topic of censorship, a highly relevant topic, so be sure to look for that issue in a few weeks.
International Free and Open Source Software Law Review
Covering legal issues related to free and open source software, the International Free and Open Source Software Law Review is targeted at lawyers, but accessible to anyone interested in the legal issues surrounding open source. According to the journal's description, the topics covered are "copyright, licence implementation, licence interpretation, software patents, open standards, case law and statutory changes."
Taking the open source way a step beyond most academic journals (even other open access ones), the International Free and Open Source Software Law Review has recently instituted a "rolling release" publication schedule. Articles will now be published electronically whenever they are ready, instead of delaying the release until enough articles are ready to publish a complete issue. The print version of the journal will still wait until enough articles are ready and aims to publish every six month, but now as soon as an article is ready for consumption, its ideas will be shared with others. The "rolling release" schedule is certainly interesting, and if it works out well for this journal, maybe more journals will consider adopting that publication model in the future.
Journal of Free Software and Free Knowledge
A newer journal, the Journal of Free Software and Free Knowledge has only published three issues so far. The first two issues came out in 2012 and contained a nice selection of articles. However, issue three did not come out until 2014 and only has one article. It looks like this journal really needs contributors.
Despite the dearth of content, the Journal of Free Software and Free Knowledge has published some interesting articles. The inaugural issue included articles about education in India and working with communities in Kenya. The second issue featured articles that were more focused on specific software (e.g. Android and Debian), instead of the broader social issues covered in the first issue, but the articles are still very interesting. The sole article in the third issue is "Fundamentally Flawed Software Policy to Design Microsoft-ed Education Psyche."
International Journal of U- and E- Service, Science and Technology
First published in 2008, the International Journal of U- and E- Services, Science and Technology covers a wide range of issues—their "Basic Topics" list is over 40 items. The journal covers business, education, government, health care, and a plethora of other topics. From 2009 to 2012 the journal was released quarterly and from 2013 it comes out every other month, so there is already plenty of interesting articles to read.
Unfortunately, the International Journal of U- and E- Service, Science and Technology has one major drawback—it is pay to publish. Under the pay to publish model the costs associated with publishing a journal article are covered by the author. While this model does make the article accessible to readers without requiring them to pay, the costs involved in publishing a journal article this way can be prohibitive. The publication fees for this journal are not as bad as some, but the fees are still hundreds of dollars, which could be a barrier for entry for some researchers.
Technology Innovation Management Review
Originally published as Open Source Business Resource, Technology Innovation Management Review is focused on the business side of open source, though it does cover other topics as well. The journal started in 2007 and was renamed to its current title in 2011. Issues come out on a monthly basis and are focused on a particular theme. For example, the August 2014 issue focused on "Innovation and Entrepreneurship in India."
One of the strengths of Technology Innovation Management Review is the diversity of its authors. The journal describes its contributors as "academics, entrepreneurs, companies of all sizes, the public sector, the community sector, and others." These diverse voices come together to create content that provides insights into starting and growing technology businesses.
Are you doing anything interesting for Open Access Week? If so, share it in the comments below or consider writing an article about it for Opensource.com.

This work is licensed under a Creative Commons Attribution-Share Alike 4.0 International License.