The ninth annual Imagine RIT, the Rochester Institute of Technology's annual innovation and creativity festival, was held on campus May 7. Each year, about 30,000 people arrive on campus to view student, faculty, and staff demonstrations. Visitors experience everything RIT has to offer through interactive presentations, hands-on demonstrations, exhibitions, and research projects set up throughout campus.
One of the tables at this year's festival was the FOSS@MAGIC table, where students demonstrated their open source software and hardware projects. FOSS@MAGIC is the free and open source software community at RIT and exists within the university-wide, multi-disciplinary research hub, the Center for Media, Arts, Games, Interaction, and Creativity (MAGIC). We were fortunate this year to have Tom Callaway from the Red Hat University outreach team join us at Imagine RIT. Tom met several students in the FOSS@MAGIC program and toured through the exhibits during the day.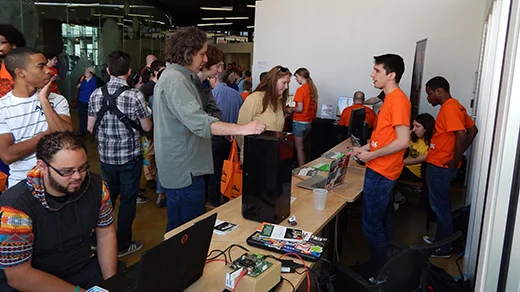 Through the free and open source software program, RIT students have an opportunity to work on cool and unique projects in the open. Some projects are completed in class as part of the FOSS minor. Others are created by students in their free time or in paid positions in the MAGIC Center.
The Black Box
One of the popular projects at the table was the Black Box. The Black Box was a final project created by student Brendan Whitfield for the Free and Open Source Culture course. It offers a unique encryption service to the users. Anyone can pass the box a message and it will return an obfuscated message back. The only catch is that you aren't allowed to understand how it works or how it operates. The students behind the table ask the audience what they think is in the box. A few mixed responses come from the audience: some thought it might be a Raspberry Pi, while others said they had no idea.
The lock was popped off. As the door opened, a frantic clicking sound came out of the box. Inside, there was a Raspberry Pi fitted to a board with a Geiger counter attached. But what is attached to the Geiger counter? A sample of Strontium-90! Little did the audience know, this "closed source" tool was using radioactive samples to generate its cipher text. The lesson of open source slowly became more clear. You can read more about the Black Box in Fedora Magazine.
Popcorn Editor
Another project at the FOSS@MAGIC table was Popcorn Editor, an in-browser video editor developed by student Mike Nolan. His project is built on several open source technologies, like Popcorn.js. He developed the editor while on co-op with Mozilla.
FIRST Mastery
Another project at the table was FIRST Mastery from student Wilfried Hounyo. FIRST Mastery is an open source courseware platform that enables students, mentors, and teachers of FIRST (For Inspiration and Recognition of Science and Technology) build and collaborate on a common curriculum. The platform is intended to be a place for the community to teach basic and advanced concepts to other FIRST students and mentors. You can see a live version of the platform in progress here.
Learn more
If you're interested in learning more about the FOSS@MAGIC initiative, you can visit the website or hop into their IRC channel, #rit-foss, on the freenode IRC network. To stay up to date with all of the activity taking place at MAGIC, follow them on Facebook and Twitter.
Justin W. Flory is a creative maker. He is best known as an open source contributor and Free Culture advocate originally from the United States. Justin has participated in numerous open source communities and led different initiatives to build sustainable software and communities for nearly ten years.

This work is licensed under a Creative Commons Attribution-Share Alike 4.0 International License.