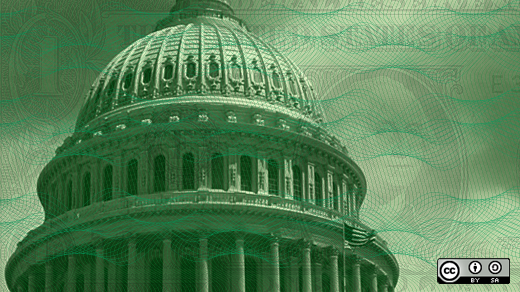 I had the opportunity to sit down with Larry Lessig last week.  Co-founder of Creative Commons, law professor, author, and copyright guru, Lessig is a visionary of law and technology policy.
In the FLOSS community, Lessig is best known for his book Free Culture and work on copyright policy. In his view, attitudes towards copyright started to change when we saw kids and grandmothers sued for file sharing. Lessig has never argued for abolishment of copyright, but he has always argued that there needs to be balance―a more permissive society that allows artists to reserve the rights they need, while allowing others to remix and improve without fear of prosecution.
But two years ago, Lessig moved away from the copyright field to invest more time researching institutional corruption and citizen-funded elections.
Why the shift? "Two reasons," he says. First, over the past few years, others have emerged who are "very eloquent" on these issues and the general public is more sophisticated about copyright than ever before. Second, even though this savvier public wants changes, he argues that lawmakers are distracted from policy issues, such as copyright, because they're instead raising money for their political campaigns. Lessig felt that institutional corruption needed to be addressed before effective changes to copyright law and other laws could take shape.
His complete thoughts on institutional corruption and what that means will be posted here in a couple of weeks in video format. But what I, personally, found intriguing was the evolution of a single-issue activist to a meta-issue activist―that recognition of a core problem with Washington that affects everyone's policy concerns, not just those of FLOSS or copyleft advocates.
He describes the problem in Washington and other institutions as an "economy of influence," and he is shining the light on the funding link between interests, lobbyists, and politicians. Lessig started Change Congress and urged people to withhold donations from politicians who don't support citizen-funded elections. He called for an Article V constitutional convention to get Congress' attention. He's on the speaking circuit advocating for the Fair Elections Now Act. In a short period of time, this copyright reform advocate has become one of the leading voices in the campaign finance reform movement.
Does money really buy votes in Washington? Not if Lessig has anything to say about it.
Melanie Chernoff | As Public Policy Manager for Red Hat, Inc., Melanie monitors, evaluates, and works to influence U.S. and international legislation and government regulations affecting open source technologies and open standards. She also serves as chair of the company's Corporate Citizenship committee, coordinating Red Hat's charitable activities.

This work is licensed under a Creative Commons Attribution-Share Alike 3.0 Unported License.