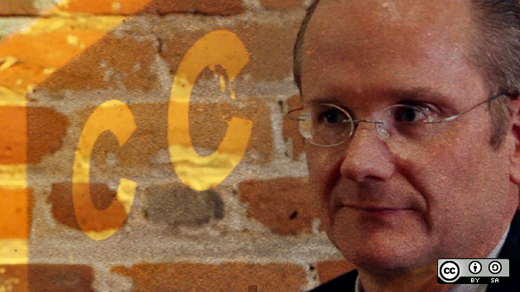 Maybe you've heard of Lawrence Lessig. Maybe as Larry Lessig. Then again, maybe you haven't. But perhaps you've heard of free culture as a movement or Creative Commons or DRM, or copyright law. How about freedom? If you've heard of any of those things, you should know about Lessig.
Lawrence Lessig is one of the founders of Creative Commons and is also currently Director of the Edmond J. Safra Foundation Center for Ethics at Harvard University, and a Professor of Law at Harvard Law School.
He's been instrumental in fighting for the rights of the average person using resources in the digital age. Currently he's working on something new (which we'll get to later in a post by Gunnar Hellekson). But, for now, let's talk about what he's done so far. And there's a video to watch, too.
Lessig is a visionary when it comes to digital freedom and is one of the most inspirational people I've ever had the priviledge of meeting in person. I'm a huge Creative Commons fan. I see Creative Commons and Lessig's work as champions of one of the basic things to know and learn in life: sharing. We're all part of one big community. Every chance we get, we should share thoughts, science, research, art--anything we know or create.
Some people want to hold things close to themselves, screaming, "It's mine!" But where does that leave us in the long run? Sole ownership may be useful to that person, but is it beneficial to the world?
That's the backbone of a lot of Lessig's work. With all of the easily accessible information available on the internet in digital form, we understand our culture is obviously changing. Lessig argues that we should adapt to this new way of life and do what makes sense when it comes to laws surrounding copyright and intellectual property.
It extends beyond that. I could write a long post about a lot of related movements and groups, but there's other ways to find all of that information. (By the way, if you're using Wikipedia, you're using a tool that is based on this very idea of freedom and free culture.)
In the time we were able to talk to Lessig, he talked about what he's done in the past and what he's working on for the future. But, in reality, everything he's ever worked on has been for the future. In this half of the interview, he talks about free culture, Creative Commons, extremism, grandmothers getting sued, the EFF, and hints at his future and what it means for freedom.
Tune in later for part two.
Hi there! I'm a video editor for Red Hat and have proudly spent most of my life as a geek. Or maybe it's a nerd. Either way, I know what I like and I like it a lot.

This work is licensed under a Creative Commons Attribution-Share Alike 3.0 Unported License.