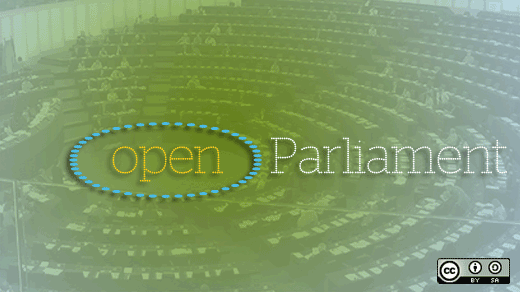 There was a bit of news coming out the European Parliament recently that could be easily overlooked. MEP Indrek Tarand (of Estonia no less), along with some non-MEP partners, started the European Parliament Free Software User Group (EPFSUG).

With goals like "assist people in using Free Software in the European Parliament" and planned sessions like "making your laptop free" it's largely internal focused and not geared toward policy making. The acronym doesn't quite roll off the tongue, in English at least, and the website leaves much to be desired, but there's still something interesting here.


Let's be honest: open source doesn't exactly have strong public saliency, or more plainly put, it ain't sexy politically. You can make strong arguments about innovation, security, procurement efficiencies, and so on, but that doesn't rise to the level where politicians would stand up en masse and carry the torch. Even with beautiful presentations and well researched white papers, they're still just intangible arguments.  

Maybe there needs to be a complementary approach toward enacting governmental improvements relevant to open source, wherever you are. Politicians are still people and have feelings, too. In addition to talking at them and demanding they put certain issues on an agenda and vote one way or another, let's try empowering them with open source and help them do their job.

This EP user group brings everything down to individual level experience. In this case, showing the practical importance open source can play in daily work may just be the gateway toward equipping politicians with a better understanding for the role open source can play government and economy wide.

We're getting better in the watchdog approach with projects like the Open Source Index and the recent Federal Open Technology Report Card from Open Source for America. Efforts like Code for America do indeed take this "help 'em out" approach with municipalities, while there are numerous projects for agencies, and so on.

Agency focus is important, but they're still just implementers. The broader public impact is going to come from more open source friendly law makers. An explicit guide and set of tools for how to be the consummate open source politician is hard to track down, much less an "Adopt a Politician" program for coders.  

Of course, a politician isn't exactly a traditional end user of software, although that's changing. They don't have the time to go tinkering behind the scenes. Many shops are likely already using open source in some form, but, they pay someone else to handle that for them. In other words, there's no illusions of simplicity here. Increasing the chance for that one-on-one moment of realization is still worth a shot.

While we're at it, let's think bigger than existing politicians. Imagine a well-packaged starter kit for anyone who needs a level playing field, especially in younger democracies. Beyond getting a repository together and perhaps starting or adapting projects, it's a chance to define in terms of principles how open source and being a politician can go together. The opportunity arises to move this beyond technology and collaboratively develop a curriculum on the in's and out's of running a campaign and staying engaged with constituents.

Borrowing from the UN E-government Index, a potential way to think about this is in terms of infrastructure, integration, and innovation. That is, what are the basics in terms of technology that's required? Then the next step up the hierarchy, what are the practices for integrating that into regular use, and finally, how can that begin to change the whole model of being a politician?

I'm curious to know if you have any examples from across the world? Who's using what infrastructure, do they even know they are, and how does it help them do their job better? Adding to that let's get a list of existing resources started here.

Think in terms of these needs (or any new or less common ones):


Fundraising and donation management
Disclosure reporting
Voter tracking and targeting
Forums and polls
Constituent communication
Social media management
Get-out-the-vote
Event management
?
Art is the Research Manager for New Kind where he focuses on research and analysis for new methods of community engagement and participation. He's also a Government Fellow at the Center for Advanced Communications Policy at Georgia Tech and the Center for Innovation in Local Government.

This work is licensed under a Creative Commons Attribution-Share Alike 3.0 Unported License.