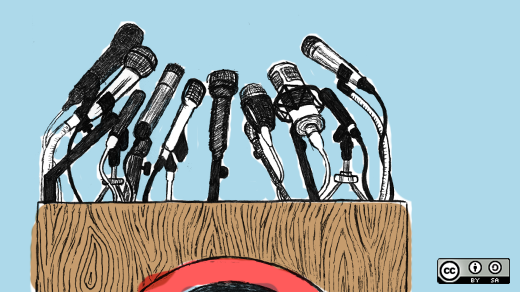 Last month, the U.S. Department of Commerce (DOC) announced a "Commerce Business Apps Challenge" to developers to look for innovative ways to utilize the Department's  and other publicly available data to help businesses identify opportunities, grow, enhance productivity and create jobs.
With the submission deadline of April 30 fast approaching, I interviewed the Department's Mike Kruger who is heading up the effort.
First, Mike, tell us a little about yourself and your role at the Department of Commerce.
I'm the Director of Digital Strategy at the U.S. Department of Commerce. I've been here for almost a year and half and my job is to ensure the Secretary's message of "Build it Here. Sell it Everywhere." is amplified throughout the digital world. I joke that "If it has a screen, it is my responsibility."
Sounds like a great challenge! A lot of our readers may not know much about the Department. It's a big one and covers a lot of areas. Can you briefly describe the role and major functions of the Department?
The U.S. Department of Commerce promotes job creation, economic growth, sustainable development and improved standards of living for all Americans by working in partnership with businesses, universities, communities and our nation's workers. The department touches the daily lives of the American people in many ways, with a wide range of responsibilities in the areas of trade, economic development, technology, entrepreneurship and business development, environmental stewardship, and statistical research and analysis. Ultimately the Commerce Department is focused on making U.S. companies more innovative at home and more competitive abroad, so they can create jobs.
Let's turn to the App Challenge, which the Department recently launched as part of the Administration's BusinessUSA initiative. Tell us about the BusinessUSA initiative.
BusinessUSA is a virtual one stop shop that makes it easier for America's businesses to access the services and information they need to help them grow, hire and export. The President directed the creation of BusinessUSA as the front door to all the government has to offer. BusinessUSA implements a "no wrong door" policy for small businesses and exporters by using technology to quickly connect businesses to the services and information relevant to them, regardless of where the information is located or which agency's website, call center, or office they go to for help.
We've seen a few similar efforts, like Apps for America, Apps for the Army, etc. Did these or other particular models influence the Commerce Department's effort? Do you think these sorts of contest can be easily replicated by other agencies?
Commerce certainly learned from and leaned upon the previous App challenges, especially EPA's Apps for the Environment, but we are looking to forge a new path around mashing up our data with other federal, state and local data to create something of substantial valuable to American businesses.
One big difference between this App contest and others is our rock star judging panel. We are lucky enough to have Sheryl Sandberg, Chief Operating Officer of Facebook, Vint Cerf, Chief Internet Evangelist at Google, Steven Van Roekel, CIO of the United States, Tim O'Reilly, Founder and CEO of O'Reilly Media, Vivek Kundra, Executive Vice President of Emerging Markets at Salesforce.com joining Secretary of Commerce John Bryson to evaluate the entries.
What is very exciting about this challenge is that this is another Commerce contribution to the President's Open Innovation agenda. We've been releasing data on Data.gov for years, but now we are using that data in a way that businesses can more easily consume so they can grow and create jobs. As Vint Cerf of Google said, "Unlocking US Government data will not only stimulate new uses for it but also draw attention to this vital trove of information that has likely lain fallow for lack of visibility and digital accessibility."
The Challenge.gov platform makes setting up contests very easy and user friendly. However, each contest requires a lot of elbow grease and hustle. I once heard Todd Park, CTO of HHS, rework Thomas Edison's adage that an app challenge is 10% inspiration and 90% perspiration because the idea is pretty easy to generate. Ensuring the right developers know of the challenge and how the data can be used is a lot of work. However, given the President's call for a "bottom-up" philosophy that taps citizen expertise to make government smarter and more responsive to private sector demands, I assume we are only at the beginning of a public data - private developer era.
The goal of the contest is to "to utilize Commerce and other publicly available data and information to support American businesses." Where does one find the data and information that would be relevant to the contest?
The Department of Commerce generates A LOT of data, so developers have a bunch to choose from.
U.S. Census Bureau - Population, household, housing, demographics. Economic census and monthly indicators, foreign trade, employment statistics, maps, geographic data and more.

International Trade Administration (ITA) - International market research, export assistance services, market access assistance, trade agreements.

U.S. Patent and Trademark Office (USPTO)
National Oceanic and Atmospheric Administration (NOAA)
National Technical Information Service (NTIS) - Database of research sponsored by the U.S. and select foreign governments
Economic Development Administration (EDA)
Bureau of Economic Analysis (BEA)
Bureau of Industry and Security (BIS)
Economic and Statistics Administration (ESA)
National Telecommunications and Information Administration (NTIA)
All DOC's data sets submitted to Data.Gov:


The initiative seems to be open to any model of software development. Are open source developers and projects eligible to participate?  Whatever app(s) are chosen, will they be able to be reused by other agencies?
As the manager of a Drupal-based content management system, I have a special place in my digital heart for the open source community, so I really hope open source developers get involved. We have set the parameters pretty wide so that developers can pick the platform that best suits them, whether that's the web, a personal computer, a mobile handheld device, or generally any platform broadly accessible to the open Internet.
Under the rules of the contest, once apps are submitted, we have rights to use them for a year at no cost. I would imagine that we'll share them with other agencies if our submissions solve a problem for them.  There is no reason to reinvent the wheel. In fact, in the rules we have the discretion to release the code as open source.
But the legal answer is: "By registering, consenting to the terms of the challenge, and entering a Submission, the Participant agrees that DOC reserves an irrevocable, nonexclusive, royalty-free license to use, copy, distribute to the public, create derivative works from, and publicly display and perform a Submission for a period of one year starting on the date of the announcement of contest winners."
Just so everyone has the basics: remind us about the timelines, requirements, etc., and links to more information.
All of the information can be found here - http://docbusinessapps.challenge.gov/.

We're looking for innovative ways to utilize DOC and other federal and publicly accessible data and program information to help businesses:
Learn about and evaluate opportunities, both here in the U.S. and internationally;
Access useful government services, data, and market information;
Fund business activities;
Support education and training, and
Facilitate or accelerate the pursuit of operating and growing their business.
The challenge is to utilize at least one DOC data set in creating an application that assists businesses and/or improves the service delivery of Business.USA.gov to the business community.
The Judging Criteria is Use of DOC Data (20%), Usability and Interface Design (20%), Relevance to Stated Objective (40%), Creativity (20%)
Submission Period
Start: February 22, 2012 12:00 AM EDT End: April 30, 2012 11:59 PM EDT
Judging period
Start May 1, 2012 12:00 AM EDT End: May 21, 2011 11:59 PM EDT
Winners announced
May 31, 2011 12:00 AM EDT, or soon thereafter
Thanks for taking the time, Mike. Good luck. We certainly hope readers of opensource.com get excited and submit !
Mark Bohannon | Mark Bohannon is Vice President of Global Public Policy and Government Affairs at Red Hat. Previously, he served as Senior Vice President, Public Policy and General Counsel at the Software & Information Industry Association (SIIA), the principal U.S. trade association for the software and digital content industry.

This work is licensed under a Creative Commons Attribution-Share Alike 3.0 Unported License.