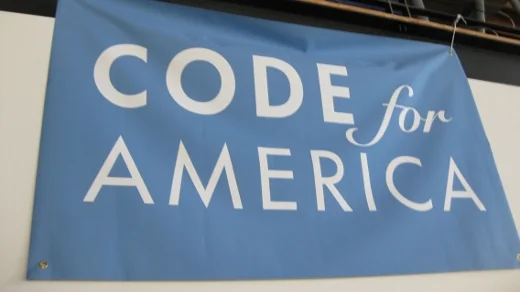 Last week while I was in San Francisco for the Open Source Business Conference I stopped by to visit  Code for America. I arranged some office time a few weeks ago when I was planning my travel. This wasn't just another office tour; this is where web geeks, city experts, and technology industry leaders are making a difference. This is where civic ideas are transformed from sticky notes and whiteboards to code.
Code for America is building open source applications and communities by solving civic opportunities. Cities apply each year to partner with Code for America. After the selection process, tech-savvy fellows  are assigned to cities to build an open source application. Take a look at some of the existing applications such as Change by Us or Adopt-A-Hydrant–you might find a civic application that your city can use.
How can cities can take advantage of the existing, re-usable applications? The Code for America Brigade is building open source communities and helping to deploy civic applications. By increasing the adoption of these applications, more cities will be using open source. The communities around the civic applications will grow. Ideally, cities become networked through open source communities and the applications will be enhanced and improved.
A peak inside the office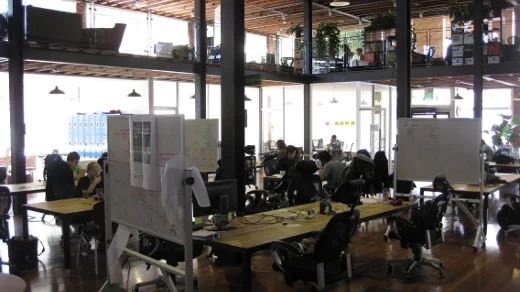 I arrived at the Code for America office on 9th Street in San Francisco. The office is very open, no cubes. All the fellows sit at several tables in the middle of the space. There are a few conference rooms, a large meeting area, and a kitchen. Upstairs you'll find more office space, again, very open. There are a few offices with closed doors, but most of the space has open area desks. I even spotted a few Nerf guns, giving it a start-up feel. All-in-all, a very collaborative, fun environment.
I find a seat in the collaboration space where the fellows are working. I meet with Jack Madans a program coordinator and Lauren Dyson a community coordinator that works with Engagement Commons. I see Abhi Nemani, Director of Strategy and Communications, running around the office, but didn't get a chance to say hello.
My visit to Code for America was more than just an office tour. I got to meet some folks that I work with online and shared some stories from Raleigh. Seeing all the fellows heads-down coding was a great experience. Code for America is advancing open government, and seeing first hand how some of the work gets done was more than just another day at the office.

See more pictures on our Facebook page.
Jason Hibbets is a Community Director at Red Hat with the Digital Communities team. He works with the Enable Architect, Enable Sysadmin, Enterprisers Project, and Opensource.com community publications.

This work is licensed under a Creative Commons Attribution-Share Alike 3.0 Unported License.