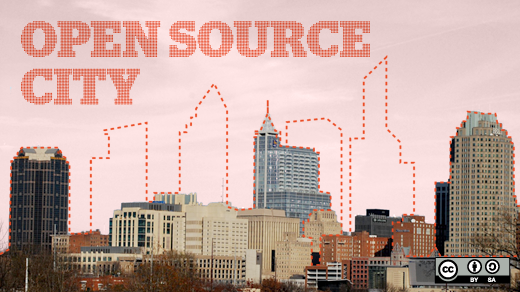 How can you apply the concepts of open source to a living, breathing city? An open source city is a blend of open culture, open government policies, and economic development.
I derived these characteristics based on my experiences and while writing my book, The foundation for an open source city.
Characteristics such as collaboration, participation, transparency, rapid prototyping, and many others can be applied to any city that wants to create an open source culture. Let's take a look at these characteristics in more detail.
Five characteristics of an open source city
Fostering a culture of citizen participation
Having an effective open government policy
Having an effective open data initiative
Promoting open source user groups and conferences
Being a hub for innovation and open source businesses
Citizen participation
Probably one of the most difficult components of an open source city is to foster a culture of citizen participation. Governments try a variety of tactics from public meetings to online forums, but if citizens aren't engaged or don't care, then that outreach and collaboration falls flat on its face. Having citizen champions around certain causes can really help boost citizen participation and engagement.
Open government policy and open data
Policy is another key component of an open source city. I've separated the open government policy from the open data initiative because they have different impacts and implications. These policies can go hand-in-hand, but sometimes governments will start with one policy and then as they feel more comfortable with the concepts of open source and open government, the other policy will follow. Take a look at this blueprint used to pass an open government resolution for the City of Raleigh.
User groups and conferences
Participation comes in another form with user groups and conferences—like-minded people gathering around their passions. Just go to meetup.com and you'll discover a variety of groups gathering on just as many topics. User conferences, or cons, gather different open source communities. Hosting these conferences and supporting user groups will boost your open source city credibility.
Economic development
Finally, having an economic development strategy that includes open source companies can help foster innovation and create jobs. More and more cities are also seeing the advantages of having an open data policy tied to their startup community. Cities that can combine their open data policy with their economic development strategy can give a real boost to startups and other businesses. Being a hub for open source companies and a catalyst for open source startups can have a positive impact on the city's bottom line. More importantly, this feeds back in to culture and participation.
In my book, I take a look at how these five principles are being actively applied in Raleigh, North Carolina. I also incorporate other experiences from my open government adventures such as CityCamps and my first Code for America Summit. Although Raleigh is the case study, the book is a guide for how cities across the country, and world, can implement the open source city brand.
What do you think about the five elements of an open source city? Do they resonate with you? Does your city have a good head start? Speak up in the comments.
---
Adapted from The foundation for an open source city, © 2013 Jason Hibbets, published under a Creative Commons Attribution-ShareAlike 3.0 Unported license, available at www.theopensourcecity.com
Jason Hibbets is a Community Director at Red Hat with the Digital Communities team. He works with the Enable Architect, Enable Sysadmin, Enterprisers Project, and Opensource.com community publications.

This work is licensed under a Creative Commons Attribution-Share Alike 3.0 Unported License.