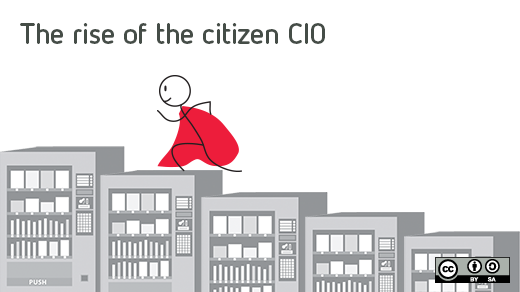 Are citizen CIOs a threat to local governments or a blessing in disguise? With government IT departments producing more open data and participation from community interest groups and citizens on the rise, we're beginning to see the start of a new movement within open government: telling our government which technologies to deploy. Citizens are identifying—and some are creating themselves—the next wave of applications and resources for their municipalities, such as a crowdsourced answering platform for city services, an open data catalog, and a civic infrastructure adoption website for fire hydrants and storm drains. With this, the role of the citizen CIO is beginning to emerge.
What is a citizen CIO?
The citizen CIO can be a passionate citizen or an organized group of citizens. Examples include a citizen champion that is enthusiastic about technology and open source or a Code for America Brigade whose mission is to help stand up civic applications for their community. A citizen CIO is a partner with their local government IT department, maybe even an extension. Their efforts are not haphazard, but strategic.
There may be situations where the underlying infrastructure isn't in place, there aren't enough resources to support a particular technology, or there is some disagreement with the IT department. What's a citizen CIO to do? In some cases, they figure out how to deploy it anyway—which might be the right thing to do in some cases—but, without that partnership between all parties, the effort may be doomed to fail from the start.
A citizen CIO that is just shooting from the hip without thinking about long-term maintenance, customer support, user adoption, and all the other things that go along with deploying new technologies may get off to a good start, but this is a marathon, not a sprint. And as the citizen CIO is starting to emerge, government CIOs are already adapting to this new form of collaboration.
"As technology and information become an enabler for communities, the role of the government CIO has changed. Various portals of information related to basic city services, open data, GIS mapping, and economic development become information portals to the public," said Gail Roper, Chief Information & Community Relations Officer for the City of Raleigh. "The government CIO has to understand that these channels must become a part of the IT governance strategy.  Access, information, and public self-service is the new face of government. Getting clear requirements for these channels must happen with collaboration between the community and the government IT department."
I can't stress enough how important the partnership component is. In order for government CIO's to embrace community enthusiasm, citizen CIO's need to have a good plan. And that plan needs to involve stakeholders from the local municipality. Let's take a look at some examples.
Oakland Answers
OpenOakland, a new civic innovation organization in Oakland, California (and a Code for America brigade) wanted to implement a new platform to help make their city government more accessible. To achieve this they used both open source technology and a collaborative method to crowdsource answers about their city. The original code was first developed in Honolulu by Code for America and because it is available for others to use under an open source license,  OpenOakland reused the same code and deployed the platform for their community very quickly.
Instead of just building something new with their civic hacker group, they chose to partner with Oakland officials, city staff, and their community to launch Oakland Answers. The goal of this site is to declutter the typical government website experience and to provide an intimidation-free experience for residents seeking information about their city and services.
This project was an excellent example of a new way of doing public-private partnerships, albeit one with no funding involved. OpenOakland worked side-by-side with city departments and residents to make sure the OaklandAnswers project was successful. During a write-a-thon day used to generate content, OpenOakland and many contributors realized that the resource they were creating would be even better if it remained open to contributors and the public on a permanent basis. Without meaning to, they had effectively built a wiki for the Oakland government. The city has since approved the idea of keeping the submission process open to capture information from the community over time.
A powerful resource for the Oakland community was created by combining open source technology with an open source model of community building, participation, and connecting.
OpenColorado open data catalog
A few dedicated citizens wanted more access to government data in Colorado. Initially, there were no city, county, or state government plans to enhance access to data, specifically through an open data catalog. A group of citizens decided to meet this community need with their skills and ability to partner with other organizations. They started their mission by creating OpenColorado.
OpenColorado was the creation of motivated city and state government employees who saw an opportunity to provide more access and openness for their fellow citizens than their government organizations were able to provide. Thanks to a desire to build citizen collaboration and make government more transparent, the OpenColorado founders met at a small unconference in Boulder, Colorado. From there, they reached their vision by building partnerships with cities and other organizations and by reaching out to their community. They found that individuals and governments are willing to participate. They just needed the education and support to reach their common goals.
The open data catalog started with a handful of data and has grown rapidly in its four years of existence. There are now almost 800 available datasets and more than 10 participating organizations.
Raleigh Adopt-a-Shelter
I'm part of a Code for America brigade in Raleigh, NC where we helped deploy the Adopt-a application for a bus shelter adoption program. Again, the code is available under an open source license and our main focus after deploying the application was marketing the program. We could have requested the bus shelter GPS coordinates from the City to stand up the application on our own, but in the end, we probably would have failed.
Instead, we identified the stakeholders and city staff who could help make this happen the right way. We set-up a meeting and pitched the idea. They loved it. They had a lot of questions, but they loved it. Over the course of a few weeks, we partnered with IT and Public Works to make the project a reality.
In the case of Adopt a Shelter, citizens identified an open source application that could enhance an existing paper and phone process. We used technology to help the program manager save 5-10 minutes of their day, per phone call, concerning questions about the adoption program. With the Adopt-a-shelter applications, citizens can see which shelters are adopted and which ones still need volunteers on a map.
How to get started
Are you ready to become a citizen CIO? Maybe your local government could use the expertise from the technology enthusiasts and civic geeks in your community. Here are a few ways that you could get started.
Volunteer for your CIO. Reach out to your local government CIO and ask if there are any volunteer opportunities. Their may be an IT advisory board or a task force that you could participate in.
Start or join a Code for America brigade. The brigade program is an organizing force for local civic engagement. Find out how to get involved.
Start or attend a CityCamp. This is an international unconference series and online community focused on innovation for municipal governments and community organizations.
---
Steve (Spike) Spiker, Director of Research & Technology with Urban Strategies Council and Executive Director of Open Oakland and Scott Primeau, President of OpenColorado, contributed to this article.
Jason Hibbets is a Community Director at Red Hat with the Digital Communities team. He works with the Enable Architect, Enable Sysadmin, Enterprisers Project, and Opensource.com community publications.

This work is licensed under a Creative Commons Attribution-Share Alike 3.0 Unported License.