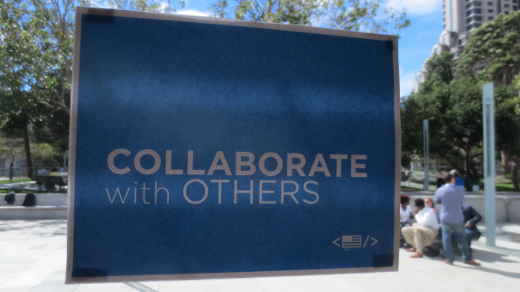 There is definitely something different about the Code for America Summit this year. It's still got the family feeling and warm welcome that I've come to expect each year, but the tone is a little more serious. The civic projects being worked on are having a bigger impact on society. The projects highlighted during the first day of the conference are saving people time and improving our experience with government. The tide is on the rise and so is the impact of open government and open data.
"The one thing we have in common is to build a better community," said David Eaves, a public policy entrepreneur and open government activist as well as the emcee for the day, to a packed house at the Yerba Buena Center for the Arts. The Code for America Summit has definitely grown. There are almost 900 people attending up from about 500 people last year.
As Eaves prepared the attendees for the event, he explained the most meaningful work last year has become the standard.
New focus area for Code for America
One of the highlights of the day was the keynote from Jen Pahlka, founder and executive director of Code for America. She shared that the focus areas for this year are health, economic development, and safety and justice. Pahlka recently returned to Code for America from Washington D.C. from her own fellowship as the Deputy Chief Technology Officer of the United States.
"We're here because we each take action," said Pahlka. She learned a great deal from her experience in D.C. and I could tell from hearing her keynote and talking with her before the event that there is a new energy and a rejuvenated passion to have a bigger impact on society with the various Code for America programs.
She reflected on last years summit and reminded us that the event was taking place when the US government was shutdown. Pahlka's been thinking about policy and said "If we can't implement the policies we make, we can't govern."
One thing I saw in her presentation that I wanted to share was the US City Open Data census. It boasts over 70 places and 583 datasets. See how some of the cities rank at http://us-city.census.okfn.org/.
A day in court
Ryan Shepard from the City of Atlanta and Sam Hashemi, a Code for America fellow took the stage to tell us about a project they've been working on that's reducing wait times in the Atlanta court system. The longs lines and the confusing room assignments do not create a good experience for people who come to court to pay traffic tickets and take care of other civic violations.
This article from Data-Smart City Solutions sums up the ATLCourt project as:
"ATLCourt is a new website that allows residents to look up their court case, get text message reminders, and find answers to frequently asked questions. The focus is on improving customer service and operations within the municipal court system."
These are the type of projects that Pahlka is talking about. When we can create a better experience for citizens we are having a positive impact on society. ALTCourt is reducing wait times from five hours to as little as five minutes. And because of this application, thousands of people don't even have to wait in those lines at all anymore.
Brigade pre-Summit at GitHub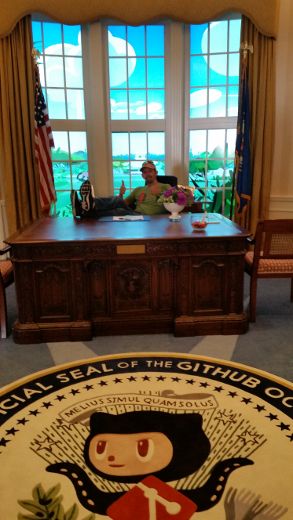 My day started at the GitHub headquarters for the Brigade pre-Summit with Code for America Brigade captains from all over the world. The space was pretty amazing. If you've never been there or seen pictures, they have created a replica of The Oval Office from The White House with a GitHub twist, of course.
The pre-Summit activities before the main conference started off with updates from Director of Community Organizing, Catherine Bracy, and Brigade Program Manager, Hannah Young. Next was a workshop on building partnerships and community organizing facilitated by Angelique Gonzales from SOUL (School of Unity and Liberation) and Mario Lugay from the Kapor Center for Social Impact. As a community manager and civic hacker, I found the workshop very useful.
The remainder of the morning included break-out sessions. I attended a "level up" session about inclusivity led by Brigade Program Coordinator, Preston Rhea. The goal is to have the Brigades all over the world be a reflection of their community.
During lunch, I led a discussion at our table as the captains broke out into regions: northeast, south, midwest, and west. In the south region, we had people from Puerto Rico, Miami, Atlanta, Charlotte, Raleigh, Durham, Asheville, Birmingham, and Hampton Roads.
The last session for the pre-Summit event was a chance for the core team members of the all the Brigades to have a face-to-face discussion. We talked about some of the challenges and successes from the past year and brainstormed on ways the Code for America staff could help us do more with our limited resources and volunteers.
This is community
The first day was really busy. From the Brigade pre-Summit to an afternoon of inspiration, I was exhausted. But you don't get 850 of the most passionate open government and open data geeks together in one place that often. While the content is great, it's the networking and community building that provides the real value to me.
Afterwards, my fellow Raleigh Brigade captains and I invited a few folks over to our apartment where we were staying, and as I said in my tweet: This is community!
This is community #cfasummit #cfabrigade #cfasoutheast pic.twitter.com/g03TC1T4fA

— Jason Hibbets (@jhibbets) September 24, 2014
Jason Hibbets is a Principal Program Manager at Red Hat with the Digital Communities team. He works with the Enable Architect, Enable Sysadmin, Enterprisers Project, and Opensource.com community publications.

This work is licensed under a Creative Commons Attribution-Share Alike 4.0 International License.