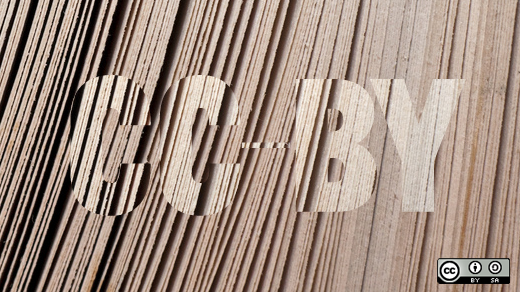 For people wanting to learn about Creative Commons and its application in different sectors, there is a sea of materials available online. In particular, Creative Commons international affiliates create a huge number of educational resources that cross language and cultural boundaries.
A few weeks ago, I wrote a post about my work sorting through some of these resources to identify some of the best, focusing on Creative Commons license use for public sector information, for publishing content on a variety of digital platforms, and for generating revenue. As promised, today I'll highlight some of the resources I've discovered.
Introduction to Creative Commons
For those who are just getting acquainted with Creative Commons:
Creative Commons Qatar's Meet Creative Commons video offers a great introduction to the benefits of Creative Commons licensing, the different types of licenses in Creative Commons's license suite, and how to choose a license that's right for your work.
Creative Commons Poland has created a great quick guide to the licences in their open poster.
If you're looking for more depth, the new School of Open initiative, a collaboration between P2PU and Creative Commons, is just getting off the ground, but it already offers the short Get Creative Commons Savvy course.
Creative Commons and government
For those interested in the potential of Creative Commons licenses to encourage unexpected and innovative re-use of information collected and published by government agencies:
Journalism and Blogging
For those working on journalism and citizen media in the digital age:
The Electronic Frontier Foundation has developed a Legal Guide for Bloggers that covers many legal topics pertinent to content publishers, including fair use and the Digital Millenium Copyright Act.
The Emerging Journalism Models & Creative Commons (3.7 MB PDF) presentation by Creative Commons Eric Steuer provides several case studies of new models for journalism that take advantage of Creative Commons licenses.
Over at Ars Technica, there's Creative Commons images & you: a quick guide for image users, which gives pointers on finding Creative Commons licensed images and offers guidelines for using images under Creative Commons NonCommercial licenses.
Business Models
Finally, resources that demonstrate how open content licenses can form an important component of online revenue models:
Creative Sector Case Studies (1.1 MB PPTX), again from Creative Commons Australia, presents cases studies of creators generating revenue by releasing their work to the public under Creative Commons licenses.
Musician Dan Bull (via Creative Commons United Kingdom), writer Cory Doctorow (who has been writing on the subject for years), and filmmaker Nina Paley have all been interviewed about how (and why) they use CC-licensed works to build a relationship with their audience, increase their distribution, and promote themselves.
On his blog Techdirt, Mike Masnick has written some of the definitive articles about monetization through what he calls the "Connect with Fans + Reason to Buy" business model.
For more information on business models, see my fact sheet, Business Models for Creative Works & Creative Commons Licensing (90 KB PDF).
The links above represent just a small portion of the resources out there teaching about Creative Commons licensing in different spheres. For more materials, a good place to start is our wiki, which has pages that collect resources and case studies on a wide range of topics. For resources in your language or relevant to your country, check out your local affiliate's website.
In closing, I wanted to mention that my internship at Creative Commons came to an end this month. I've really enjoyed working with the Creative Commons team and learning about the organization's work, and hope to stay a part of the Creative Commons community.
Originally published on creativecommons.org and republished using Creative Commons. Note, the author was an intern at Creative Commons when this post was written.

Graduate student at Tufts University's Fletcher School of Law and Diplomacy.

This work is licensed under a Creative Commons Attribution-Share Alike 3.0 Unported License.