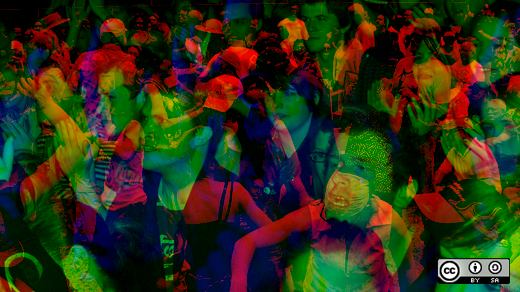 More and more frequently, familiar "work" terms (like open source, collaboration, or crowdsourcing) jump out at me from television, movies, books, or the radio. Few corners of the world are unaffected by the culture shift towards collaboration. But sometimes, the subject matter makes you stop a second. How about this one: the Grammys and American Idol.  
I was driving to the office the other day, listening to NPR, and caught a story on All Things Considered, "If you could vote, who would win a Grammy?".  All Things is a short-format news program, so the discussion was only a few minutes long, but I found myself thinking about it the rest of the day. The Grammys--at least from a PR perspective--appear to be embracing the broader appeal of the crowd. Joel Rose referred to it as "the Grammy Awards' fight to be relevant." The ensuing discussion bared a few facts behind the Academy's faux-open front, and their tentative embrace of American Idol-like "crowdsourced"[1] input.
The conversation began around the advertising campaign for this year's Grammy awards: "We're all fans." As taglines go, it's quite inclusive. Does it represent the truth of their awards show? Well, no. We may all be fans, but only certain fans (those who are also qualified by professional merit) count. The Academy did solicit some fan input--you could vote, for example, to decide what song Bon Jovi would sing--but there were no real changes in the actual process of determining winners.
Were they imitating the process of American Idol?  Perhaps, but only in one small place--a single performance, out of many. And it was a performance that had no impact whatsoever on the actual distribution of awards.
However, part of the assumption here is that American Idol is truly an open process. The Grammys are clearly not, since the nomination and selection process are both tightly controlled by experts--but is American Idol really open to anyone?
How they work.
Both awards are presumably based on merit--skill as a performer. Subjective, sure--it's art. Art is subjective. The two contests are clearly different in several ways: the requirements of the contestants and critics, and the result of the contest. Winning a Grammy is an honor, and it doesn't come with a purse or award a recording contract--in fact, the recording contract is required before you can even be considered for the award, or to judge the contestants for the award.[2]
The Grammys are an elite contest, with profressional credits required for both entrants and voters. The Grammys are billed as "the only peer-presented award to honor artistic achievement, technical proficiency and overall excellence in the recording industry, without regard to album sales or chart position."[3] A Grammy is often considered the epitome of American music honors--the achievement of a lifetime. Music industries in other countries have similar awards programs.
American Idol is positioned as everyman's chance to influence the music industry. Contestants are plucked from open auditions, and vetted on network television. As the taglines go: America votes, America chooses the "Next American Idol." Or French Idol, or Irish Idol, or one of the more than 40 other localized Idol-series shows--this phenomena also has range.
Considering this positioning--at least on the surface--one could make a simple comparison (and many have): American Idol is crowdsourced.  It's an open process, democratic, and a sign of the culture shift in entertainment.
But I'm not so sure.
Winning American Idol awards the victor (and often, several of the runners-up) a recording contract from the same parent company that owns the television show--a neat and tidy bundle of profit off each successful entertainer. Perhaps most importantly, winning American Idol provides entrance into the professional music industry. It does not guarantee success there--several contestants were dropped after early albums did poorly. But the fact remains--three American Idol contestants so far (Kelly Clarkson, Carrie Underwood, and Jennifer Hudson) have gone on to win Grammy Awards. Hudson, incidentally, has also won an Academy Award. Many others have moved successful albums, appeared on Broadway and on tour, and remain under contract as professionals. 
Does this taint its openness? In some ways. American Idol artists may be plucked from obscurity, but once they are, they become part of a homogenizing machine. Props for the advertising that sponsors the show, under contract to sing certain songs penned by the show's producers and talent, coiffed and bedazzled within an inch of their life by the show's art directors and stylists. Those are the obvious restrictions. More subtle ones, of messaging and positioning, pervade their after-Idol success. 
But the truly damning element to openness comes much before the heavy spray of glitz and glamour--it happens during one of the earliest stages of the process, a part of the show played on television for laughs. Auditions. 
Though the choice, in the end, is that of the call-in and text-in voters, they are choosing from a group of performers already vetted by the experts. A very small group of experts, in fact, even smaller than those that decide on a Grammy Award, and with a much more honed sense of purpose. They wish to choose a group of performers who will function successfully within the machine, who each present a story or an angle that will capture the audience's interest as well as play well with the other stories, and who can perform a variety of pop songs, as ensembles and as solo artists. 
That's not really 'open' at all.
[1] When industry terms like crowdsourcing or open source are in double quotes, I mean them in the commercial, not actual, sense.  Many things are referred to as open, collaborative, shared, or crowdsourced that are not, really, at all.
[2] Grammy awards voting process, http://www2.grammy.com/GRAMMY_Awards/Voting/
[3] Grammy.com, http://www2.grammy.com/recording_academy/



RELATED RESOURCES:
Editor, writer, and developer. I wear many hats, including the red one. Graduate of UNC-Chapel Hill School of Journalism; long-time interest in all things geeky. Editor of Red Hat Magazine and grizzled industry veteran, including time as an archivist for SunSITE UNC (now ibiblio.org) and ten-plus years at my current gig. I love:

This work is licensed under a Creative Commons Attribution-Share Alike 3.0 Unported License.