A Boxee Box review: Recent updates and questions of openness | Opensource.com
A Boxee Box review: Recent updates and questions of openness
Subscribe now
Get the highlights in your inbox every week.
The Boxee Box, available since November 2010 with firmware recently upated to 1.1, is a winning compromise that makes a Linux-based HTPC easy enough for the least technical user.
Linux-based HTPC (home theater PC) systems have been proliferating, and with good reason. Linux is known for being stable over long periods of time. You wouldn't want to have to reboot your cable box as often as you do a Windows machine, would you?
There are tons of options, both in the software and hardware parts, for building your own from scratch. Boxee is just one. It started life as a fork of the open source XBMC software, which was created for first-gen Xbox consoles. You can go download the Boxee software and install it on your own hardware, or you can purchase the Boxee Box by D-Link
, made by D-Link. It's a tiny, black almost-cube that comes pre-installed with Boxee. In full disclosure, the company was kind enough to send me one for review, but as anyone who has seen me in the last month can tell you, I've been a genuine fan since we first plugged it in.
The Boxee Box got a bit of bad press last week since the latest firmware update caused problems with surround sound. But the fix came very quickly behind. (Read the full 1.1 release notes.)
To give this review context, my household's HTPC history is short on booming successes. We discussed all the options of hardware and software for building our own, but never got very far on the actual building part. We used a PlayStation 3 as a media center for a while. That worked OK, too, but it moved the PS3 to the room where we watched TV more and took it away from the room where we played games more. Not an effective solution. Then we bought a Roku, which seemed like a pretty good solution--until the Boxee came in.
Last night's TV on your Boxee Box today
Want to watch last night's episode of Fringe or Glee? The Boxee has it waiting for you. You can scroll through a list of recently updated shows, watch clips, or choose from shows you've starred as favorites.
For my own viewing habits, watching current TV this way rather than via cable or satellite has had only one major problem: CBS shows (read: The Big Bang Theory), which aren't available now but are supposed to be available for purchase through Boxee later this year. That will give Boxee a content edge over CBS-free devices, at least for fans of that channel's shows.
Other content channels
The Boxee Box has become our Netflix player, which is great for movies and older TV series. Just because it hasn't been on the air in two (five, ten) years, doesn't mean it's not still a good show. Plus you get the benefit of not having to wait until next week--we watched seven seasons of Lost in three months.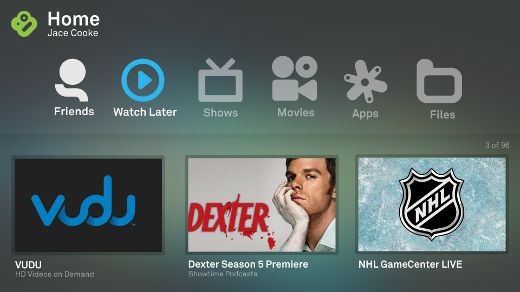 There are also for-rent movies through VUDU, and well over 100 apps in the app library to connect you to sites like Flickr, Facebook, and Pandora. You can also get your sports fix through the MLB and NHL apps. The NHL subscription will run you $19.99/month or $79.99/year, which could be useful about now if you're a Sharks or Canucks fan. MLB.tv is priced similarly, but with a more expensive Premium option as well.
Some of the other most popular apps:
MTV Music
CNN
Wired 
Geekbrief.TV
TED talks
BBC
CNET
Vimeo
Google Videos
NPR
The Onion News Network
G4TV
Open University
ABC 7 News
Associated Press
If none of those appeal, find your favorites in the app list.
And if your preferred method of entertainment is torturing visitors with videos of your kids being cute or your latest personal keytar composition, the Boxee Box has 2 USB ports and an SD slot so you can plug in whatever files you like.
But at least for now, there is one area where the Roku has an advantage--you can watch Hulu Plus with it, but not with the Boxee. Hulu Plus was promised when the Boxee Box launched, but so far, even after questions from Congress, no indication of it actually becoming available.
Version 1.1 upgrades
This type of TV experience is supposed to be more social, and the aforementioned recent upgrade added to that by letting you specify whether you'd like to share something on Facebook, Twitter, or Tumblr with a character counter reminding you just how verbose you are. It also added a little polish to what was already working pretty well:
SnagFilms free documentaries joined the lineup of titles you can get through Boxee
Added HFS formatted drive support and filtering local files by source.
If you're the person who insists on showing up at the movies on time because you love trailers, you'll love the new Trailers section under Movies.
If you've still got a cable subscription with HBO, the new HTML 5 support will help you out with HBOGO.
More language support--the Boxee Box is available in 34 countries, more of whom can now see Boxee menus in their native languages.
The on-screen display, seek bar, and browser got shined up a bit to look better and work more smoothly.
On openness
But now that I've extolled how great it is to use, I have to also point out the Boxee Box's open source troubles. In the Boxee blog on April 19, Tom Sella posted:
We're passionate about open source software – it forms the basis of the software we've spent the last 4 years building and we love the spirit of the community around it. Without it, we would not have been inspired to build Boxee in the first place.
That's the spirit I like to hear, but the reason for the post was over the Boxee Box being locked up hardware. The problem from Boxee's point of view is that in order to deliver premium content, there had to be some compromises on their original mission.
On the other side, customers point out that Boxee CEO Avner Ronen said the goal was to make the Boxee Box "hacker friendly," which it definitely is not. You'll have a lot more flexibility if you download the Boxee software (or any HTPC software) and put it on your own hardware. With a Boxee Box, what it ships with is what you get.
The basic issue (outside of the possible GPL violation) is a promise-and-delivery problem. A hackable box was promised. A hackable box was not delivered.
Beyond the community that has the capability and interest to hack such a device, this little box is a nearly perfect example of open source software making its way into a piece of hardware that even the most non-technical home user can plug in and get started using. Some of the Boxee critics are throwing stones at the profit involved. There's nothing wrong with making profit when open source is involved. It does look like there's going to be a drive in the future towards paid and premium content--see the CBS deal I mentioned above, or the connection to HBOGO. But I'm OK with that. Everything in the world isn't going to be free-as-in-beer. Being paid for your work is not a crime. If you've been paying for 150 cable channels you never watched, why would you object to paying for the things you actually do want to watch?
And all that said, we ditched cable and satellite a year ago and started making our way through various alternatives. It was the best thing we ever did, and Boxee is the best solution we've found so far. Beyond saving $100/month, watching a show is now an intentional choice--there's no more mindless channel-flipping. It's hard to argue with more efficient entertainment, and the Boxee Box makes that efficient entertainment even easier to get. The compromise for that simplicity is a small piece of hardware that isn't 100% open--but then, I also have an Android phone. Sometimes you compromise.