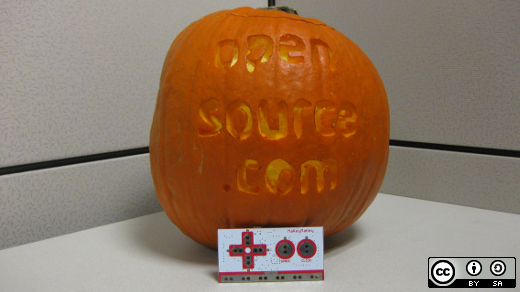 We've been anxiously awaiting our chance to mess with a MaKey MaKey after we wrote this post, and we finally got our hands on one just in time for Halloween. MaKey MaKey's are based off Arduino, and you plug them into your computer with a USB cord. Basically you can alligator clip anything that conducts electricity and to make anything into a key.


After painstakingly carving our Opensource.com pumpkin, we used that, along with five pumpkin Hershey Kisses as our keys. We found a piano keyboard on the MaKey MaKey website that was written in Scratch, so you can easily change the keyboard to create your own version.
Jason Hibbets demonstrates our finished product:
More Halloween treats for you:
Casey is a recent graduate of the University of North Carolina at Chapel Hill with a degree in journalism. She spends too much time perusing social media sites, and she's especially fascinated by open source startups. twitter: @caseybrown_

This work is licensed under a Creative Commons Attribution-Share Alike 3.0 Unported License.