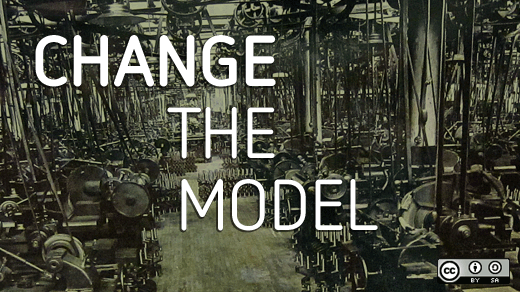 I spoke with John Nicol at MakerPlane about their passionate team of contributors from all over the world who are designing and building a full-sized two seat Light Sport Aircraft. Their mission is to "create innovative and game-changing aircraft, avionics and related systems and the transformational manufacturing processes to build them." 
When did you first hear about open source and what did you find most impressive about it?
I have been involved in the hi-tech industry for over 20 years or so in various roles, including as a VP Engineering for a NASDAQ listed company in Fremont, California, and CEO of my own start-ups in New Zealand and Canada. So, I have been exposed to open source in the software world for quite some time. I have used open source software and released open source assets and software throughout my career and continue to do so on another project I have going on right now. (Not to let the cat out of the bag, but I am hopefully looking to release some specialized 3D modeling software as open source next year.)
The most impressive thing to me is that if there is an interested community, it can grow and spur innovation that can be exponential from it's beginning seed. It can take on a life of its own and given the right environment, can be generational in nature. What I mean is that it can be taken over by new and motivated developers constantly which can instil a new freshness into the application or system under development. Of course the key ingredient is the "community" and this is critical. Open source can live outside of company structures and personalities.
Open source principals are now firmly established in the hardware area and I recently spoke at the Open Source Hardware Summit in New York City to present MakerPlane.
How is open source being used in the MakerPlane project?
Basically we provide open source hardware and software for the "homebuilt" aircraft movement. Software is still in development, but will include Electronic Flight Information Systems (EFIS), which is what you could call a computer in the cockpit that shows flight and engine information on monitors. It also includes firmware and applications for hardware such as Android and Arduino.
The hardware is in two main areas: avionics and aircraft. Avionics are flight instruments and electronics that are inside the aircraft. To date we have 24 open source avionics hardware projects in our repository for people to download and build. The range of projects is growing all the time. In terms of aircraft, we are currently in the process of designing and building our first open source aircraft. This is a full-sized two seat Light Sport Aircraft (LSA). The key to our aircraft design is that we are also optimizing the design to be built on home or makerspace CNC equipment and 3D printers. With the proliferation of open source CNC and 3D printer designs out there and the growth of the "maker" movement, this is the perfect intersection of technology and availability of cheap manufacturing equipment for people that want to build their own aircraft.
The statistics that we have indicate that three out of four aircraft projects that are started from either kits or plans are abandoned before completion. Aircraft companies that provide kits or plans are constantly going under as well with many orphaned designs out there. So our aim here is to create a set of open source aircraft plans, with associated IKEA-like instructions (well, easier to understand than IKEA plans hopefully!). These designs, as open source, would be available for anyone that wanted them and survive hopefully long after the founders of MakerPlane.
People tend to get a bit worried when I talk about an open source aircraft. The main concern is that anyone can come in and make a change and cause the designs to then become unsafe. But, we have an Aeronautical Engineer that owns the design. Just like open source software, he is the gatekeeper and nothing will be added to a design unless he approves it. People can obviously make their own changes and customizations to the aircraft as they see fit and that is the beauty of releasing the source. However, any aircraft that is built, in 99% of the countries around the world, are normally individually inspected by that country's aviation authority, or their delegates, and must be approved before taking off. In the USA, this is the Federal Aviation Administration (FAA). This is for the safety of the pilot, passengers, and people on the ground. You must also have some form of pilot's license as well, particularly for the weight class of aircraft that we are designing and building.
What are the challenges with the project?
Funding is the biggest challenge, as with most non-corporate open source initiatives! Lots of people probably don't realize that a significant number of open source projects are funded by large companies. Grassroots open source movements seem to be always underfunded and we are no exception. The added dimension with us is that we need to purchase lots of material and supplies in order to build aircraft. We recognize that in order to ask for donations to keep going, we need to have made progress and get the aircraft flying. We can't get the aircraft in the air without money to buy supplies, so it is a vicious cycle.
Business models for sustaining open source initiatives are to provide products and/or services that surround the free open source product. So to help fund our initiative we have opened an online store and are selling parts and kits for the avionics and eventually the aircraft. Right now the whole enterprise is funded from my personal savings and credit cards and that is just the way it is. It does mean that progress is a lot slower than I would like because I just can't afford to go out and buy parts when I want to get them unfortunately. I would dearly love to get a bigger CNC machine and a 3D printer, but we make do with what I have now. If we had the funding, we would certainly be a lot further ahead.
What impact do you envision MakerPlane will have on the world?
The use of home-based manufacturing technologies is changing the way people make stuff and how fast they do it. A good CNC machine can be made or assembled from a kit for two or three thousand dollars and a relatively unskilled person can use a CNC machine or a 3D printer to produce a highly accurate items and do it many times over. Instead of taking a couple of years to make aircraft parts, I should be able to cut out parts in a few days and then assemble and finish them into a complete aircraft. I will no longer have to ship parts from a manufacturer or distributor. I will make my own kit as I need it. I will just need to download a file, load the material into a machine and cut it out. The methodologies that we are exploring to assemble the aircraft include slots and tabs so that parts will only fit in one way and are self-squaring. It is hoped that many of the time-saving techniques that we learn through MakerPlane will find their way into the mainstream aircraft kit manufacturers.
How can someone get involved with MakerPlane?
There are several areas where people can contribute to our effort to change the world of aviation! Here are some ideas:
How do you use the open source way outside of your project?
I use OpenOffice for day to day work activities and Inkscape, Gimp, and Blender occasionally. I have an electronics background, so play around with Arduino open source hardware and my phone and tablet are of course Android powered. Open source is everywhere in my life!
Video: MakerPlane Prototype Build: #1 Console Side Walls
Image credits: makerplane.org
Ted is a Solution Architect at Red Hat and prior to joining Red Hat, Ted worked for a large system integrator. Throghout his career, he has promoted the use of Open Source tools and technology. A long time Linux hobbyist, Ted is active in a local Linux Users Group and enjoys talking with others about the use of open source technology.

This work is licensed under a Creative Commons Attribution-Share Alike 3.0 Unported License.