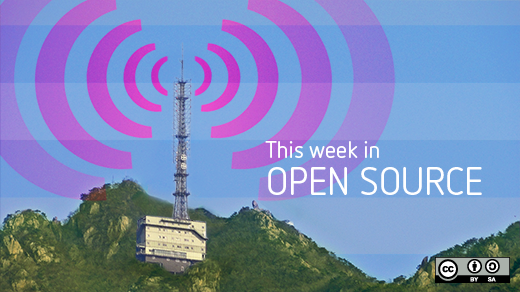 In this week's edition of our open source news roundup, we take a look at the future of Linux, open standards for improved security, and more!
Open source news for your reading pleasure.
October 18 - 24, 2014
Linux on the right side of history
Chris Merriman, a tech reporter for the Inquirer, interviewed Jim Zenlin, executive director of The Linux Foundation, who was at LinuxCon Dusseldorf Germany, October 13 - 15. In this interview, Zemlin talks about participating in open source communities, saying they "really sucks you in with an infectious enthusiasm that everyone who is touched by Linux catches." He tells how Linux is changing the world, creating new technologies, and is on the right side of history! Other topics covered are: Dronecode, security, OpenDaylight, and more.
World Wide Web Consortium for new open standards
The World Wide Web Consortium (W3C) is working on developing new open standards to support security in open source. In a story covered by Jack Schofield at ZDNet, the W3C will "develop open standards that enable different products to interoperate." With this new open standard, the W3C wants to address current problems like not meeting usability standards and improved security. Benefits for developers will be app-compatibility across platforms. 
Open source webserver NGINX turns 10
The open source webserver NGINX will be 10 years old this month. In a post for TechCrunch, Frederic Lardinois includes interesting stats, like there has been a 54% adoption increase of NGINX, leading to its run of 41% of the market, of the top 10,000 high traffic sites. In this post, Lardinois talks to NGINX CEO Gus Robertson about the future: he says the main trend he is seeing is application level networking functionality "moving inherently into the application and away from the underlying infrastructure and network." I expect we will see application abstraction occur alongside this trend.
Why the Internet of Things (IoT) must be open source
At ReadWrite, Matt Asay says the IoT should be open source. Asay writes that developers are moving to open source and the cloud, and that this is likely to happen with the IoT as well. Asay looks at Bosch, a company who recognizes the importance of open source and the standardization of IoT information models, and concludes that companies will win over the IoT with the command line. So, are open source developers ready?
OSS to fight Ebola
Darren Wilkins writes about the the impact of open source and the current Ebola virus epidemic in Africa at AllAfrica.com. He highlights the opportunities born of the adoption and integration of open source in this case, and he gives examples of how it could improve communication and data collection. "The massive, efficient, and effective use of open source software to fight the Ebola virus disease further confirms that development in African countries as well as other developing countries cannot occur in the absence of open source software." He covers interesting open source software projects like mHero, iHRIS, HeathMap, and others—which are deployed by international organizations and the Liberian public.
In other news
All Things Open conference in Raleigh, October 22 - 23
Community Moderator Nicole Engard reported live from All Things Open event this week. Check out her blog to get the latest on open source news, sessions, presentations, and more!
A big thanks, as always, to staff member Jen Wike Huger, and Community Moderator Scott Nesbitt, for their help this week.

This work is licensed under a Creative Commons Attribution-Share Alike 4.0 International License.