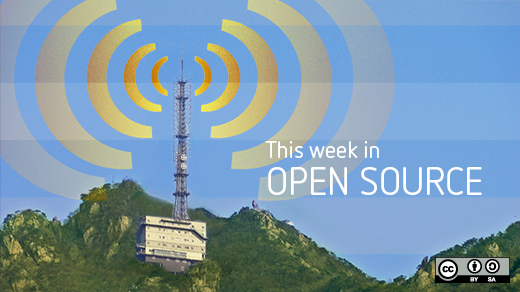 Open source news for your reading pleasure.
March 15-21, 2014
In this week's edition of our open source news roundup, we look at The Guardian's new custom rich text editor, printable circuit boards, and more.
Meet Scribe, The Guardian's open source text editor
British daily newspaper, The Guardian, is moving its online presence over to a new content management system. They needed a rich text editor that would provide their journalists with "an elegant interface for producing and formatting rich content." Nothing on the market met their needs, so they built their own. And then they open sourced it. For information on how they built it and how it works, check out the official account on their blog.
Print circuit boards on your home printer
We've almost completed our first Open Hardware Week here at Opensource.com, but there's lots of fun stuff happening elsewhere. The AgIC Print Kickstarter (which has already been funded) wants to make it possible for anyone to print circuit boards on their home printers. By using conductive ink, which sprays silver particles onto paper, the budding home electronics enthusiast can create prototype printed circuit boards (PCBs) before breadboarding or PCB fabrication.
Israel and United Kingdom work together to share open source systems
Officials from the two countries signed a memorandum on digital government, vowing to work together to assist one another with knowledge and technologies based on open source systems. This is all part of an ongoing relationship between the UK and Israel designed to maximize efficiency and innovation in technology startups, which includes programs like TeXchange.
Hadoop integration with OpenStack becomes official
The Sahara project (until very recently known as Savanna) is all about making big data processing on OpenStack simpler by providing an easy way to get Hadoop up and running in the cloud. Sahara has been in incubation since September of last year, and the core team include software developers from Hortonworks, Mirantis, and Red Hat. It was announced this week that Sahara has finally graduated incubation and will become a full-fledged component of the Juno release of OpenStack, set for October of this year. But you don't have to wait until October to try it out, as there are installation instructions already available for Sahara on multiple OpenStack distributions.
Hat tip to Opensource.com moderator Robin Muilwijk, staff writer Jason Baker, and Open Electronics for sharing some of these articles with me this week.
Michael an unrepentant geek with a love for games, the social web, and open source projects to share with his kids. He writes about raising geek children at GeekDad and records a podcast about games called The Dice Section. You can follow him on Twitter at @oldbie.

This work is licensed under a Creative Commons Attribution-Share Alike 4.0 International License.