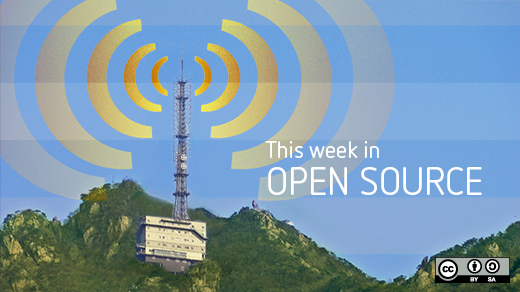 Open source news for your reading pleasure.
April 12-18, 2014
In this week's edition of our open source news roundup, we look at Oxford University's (temporarily) open resources, an open source graffiti-spraying drone, and more.
Oxford University Press opens up online resources for National Library Week
While National Library Week is an event sponsored by the American Library Association, our book-loving friends across-the-pond are also getting in on the action. The Oxford University Press is offering free access to its online resources section for anyone in the U.S. and Canada. The Open Education Europa site breaks down some of the available resources. If you're interested in celebrating National Library Week with us at Opensource.com, you should check out our Open Library Week content and enter our contest to win two free books for yourself and five for your favorite open library!
Electronic Frontier Foundation organizing across college campuses
The tech-oriented civil liberties nonprofit is starting up a program to find passionate activists at schools across the country. They're developing new tools and resources to offer up to their organizers to help them work at educating students and community members in the importance of fighting for digital rights in the modern era.
Arduino-powered vending machine tweets your sweets
Here's a new use for Arduino: a vending machine that shames you via Twitter about the junkfood you just bought. The UK-based Nottingham Hackspace upgraded its snackfood machine with Arduino, enabling purchases via RFID cards. The Arduino pings the Hackspace's server, which tweets out the incriminating purchase. Better health through technology and shame!
Graffiti artist's drone leaves mark in hard-to-reach places
Well-known graffiti artist KATSU, who has explored art in the digital space via smartphone applications and Minecraft, has created an aerial drone that can tag where land-bound humans can't. He plans to make the drone's design documents open source, so that anyone can take graffiti to new technological, physical, and (debatably) artistic heights.
Hat tip to Opensource.com moderator Robin Muilwijk for sharing some of these news articles with me this week.
Michael an unrepentant geek with a love for games, the social web, and open source projects to share with his kids. He writes about raising geek children at GeekDad and records a podcast about games called The Dice Section. You can follow him on Twitter at @oldbie.

This work is licensed under a Creative Commons Attribution-Share Alike 4.0 International License.