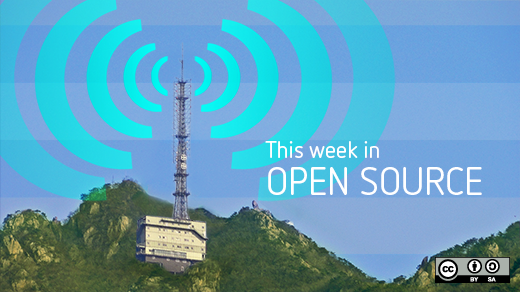 Open source news for your reading pleasure.
June 21 - June 27, 2014, 2014
In this week's edition of our open source news roundup, we check out Google's newly open source PDFium engine, the Open Wireless Movement, and more.
Google open sources its Chrome PDF engine
Foxit Software, whose Foxit PDF SDK was used as the foundation for the Chrome browser's PDF viewer, is releasing the code to the public under the BSD-new license. The engine, newly christened as PDFium, is described by Chrome engineer Peter Kasting as "almost certainly the highest-quality PDF engine available in the open-source world." While he might be somewhat biased, it's pretty cool to see Chrome open up even further. As Kastin adds, "Now if we could just open-source Flash..." (via InfoQ)
Open Wireless Movement promotes sharing Wi-Fi with strangers
As part of its Open Wireless Movement, the EFF is releasing some new router firmware that will help people share their Wi-Fi networks with nearby strangers. The group's mission statement maintains that it is "aiming to build technologies that would make it easy for Internet subscribers to portion off their wireless networks for guests and the public while maintaining security, protecting privacy, and preserving quality of access," and the firmware will prioritize the owner's traffic over guests'. In addition, all connections are walled off from one another, so the risk of snooping is negligible.
Google creates new "boring" OpenSSL fork
The new version of the web encryption toolkit is not meant as a replacement for OpenSSL. Instead, it's there for internal software projects, and is mostly being done because, as Adam Langley, an engineer with Google writes on his personal blog, many of Google's OpenSSL patches "don't mesh with OpenSSL's guarantee of API and ABI stability and many of them are a little too experimental." So, basically, they wanted a little more freedom and a lot less codebase complexity.
Jim Zemlin on the open source "software talent war"
The Linux Foundation executive director spoke at the invite-only Linux Enterprise End-User Summit earlier this week and talked about the ubiquity of Linux and the open source software movement. "Shared development is enabling faster development with higher quality and lower costs," he said. "This is causing the software value chain to change... Top software talent is at an all-time premium and open source developers are demanding a premium over others." Zemlin also touched on the importance of the Core Infrastructure Initiative: essentially, with all tech companies relying more and more on open source software, top-notch security is essential.
MongoDB World hits 1,800 participants

The open source database, which has quickly grown to become the fifth most-used in the world, celebrated its first user conference in New York City this week, and it exceeded expectations. At the keynote, MongoDB CEO Max Schireson spoke on why the database is so popular: "Today a 'big' application has millions of users engaging constantly through their mobile phones. It's not enough just to consummate a transaction. We expect to be able to build applications in months that used to take years, and we have to be able to update them weekly, daily, or even hourly."
Thanks as always to Opensource.com moderators Robin Muilwijk and Scott Nesbitt, as well as Opensource.com summer intern Bryan Behrenshausen, for their help this week. They're always welcome on my home wireless network. Like Bruce Schneier says, it's like sharing a hot cup of tea.
Michael an unrepentant geek with a love for games, the social web, and open source projects to share with his kids. He writes about raising geek children at GeekDad and records a podcast about games called The Dice Section. You can follow him on Twitter at @oldbie.

This work is licensed under a Creative Commons Attribution-Share Alike 4.0 International License.