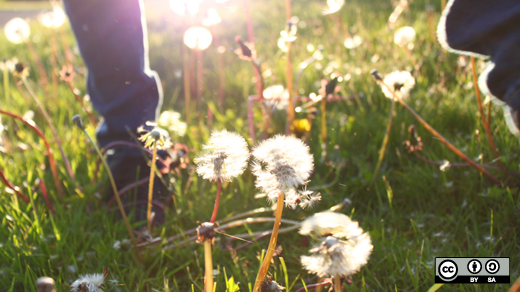 Firefox OS, Mozilla's open source mobile phone operating system, needs developers. And Benjamin Kerensa knows just where to find them.
A Firefox OS evangelist and volunteer working as the platform's Early Feedback Community Release Manager, Kerensa will use his time on stage at this year's OSCON to wage a recruitment effort. Along with Alex Lakatos, Kerensa will present Getting Started Contributing to Firefox OS, an introduction to building applications for the operating system. Attendees will learn how Firefox OS embodies Mozilla's commitment to open web standards like HTML, CSS, and Javascript.
In Kerensa's opinion, those attendees are some of the sharpest around.
"For me, OSCON is a really special event because very literally it is perhaps the one place you can find a majority of the most brilliant minds in open source all at one event," Kerensa wrote recently.
His talk arrives not a moment too soon, as Flame, Mozilla's flagship phone running Firefox OS, is about to drop—a golden opportunity for open source app developers.
Kerensa spoke with us about what makes Firefox OS so special and what it's like to teach mobile phone carriers the open source way.
Explain the philosophy behind Firefox OS. How does the project express Mozilla's mission more generally?
I think that, simply put, the philosophy behind Firefox OS is really pushing the web forward by creating an amazing new platform where HTML5 is a first class citizen. This ties in really well with the mission Mozilla is trying to achieve overall which comes back to pushing the open web forward and really ensuring that it reaches as many people around the globe as possible.
What differentiates Firefox OS from other mobile operating systems?
In my opinion, the biggest difference is that Firefox OS is a mission driven platform, and Mozilla is interested in using it to bring real change to users, while other platforms focus only on market share and keeping both investors and partners happy.
I think other mobile operating systems are starting to pay attention to what Mozilla is doing here with this idea of pushing forward an open platform that anyone can hack on and that one of the largest developer segments in the world can build apps for.
How does the work of developing an entire mobile OS differ from that of developing a web browser?
Many of the development processes are the same since Mozilla operates as an open source project, so we use often the same tools to get the job done. I think the big difference is more at the level of delivering the platform to users and working with carriers and hardware partners.
Many of these partners are used to the closed door processes of other operating system (OS) makers. So it's obvious there are some battles to be won in terms of getting partners to operate more openly and sometimes there are lines that hardware partners are not yet ready to cross. But I think the fact that Mozilla is working with these companies and having conversations about how Mozilla makes software is definitely having a lasting impact on the industry.
I think, with each iteration, the process of developing Firefox OS is becoming easier since we're learning more from each release. We continue to refine not only the product but also the experience for our users in terms of polishing documentation and improving the support experience. We owe a lot of thanks to our worldwide community of contributors that enable us to scale as a project, to support these users, and deliver a great experience.
What challenges do you face as you pursue Firefox OS's wider adoption?
I think as a community and project, the biggest challenge Mozilla faces is scaling to ensure we have enough contributors right there helping drive these projects forward. While we have always prided ourselves on having one of the largest open source communities, we are continuing to seek growth so we can scale to take on these new projects like Firefox OS.
One thing any project of our size has is growing pains, and I think we definitely are facing some of those and learning how to scale our resources, support, and mentorship for our contributors who are helping us to grow our community.
Your OSCON presentation promises to teach developers how they can start contributing to Firefox OS. What's the quickest way someone can start productively aiding the project right now?
There are so many ways that potential new contributors can get involved in contributing. I want to point out three ways to contribute.
The first two are Bugs Ahoy and What Can I Do for Mozilla. These are tools created by the community. Then, there is one excellent external project called OpenHatch, which also offers ways to contribute to Firefox OS.
Another way to get involved is for those interested to connect with someone from one of their local communities. Mozilla has reps and other community contributors in many countries so this creates a great opportunity for new contributors to receive mentorship and help along their path of becoming a more seasoned contributor.
Finally, I will highlight the most important way folks can contribute to Firefox OS and that is creating an app for the Firefox OS and submitting it to our marketplace.
Bryan formerly managed the Open Organization section of Opensource.com, which features stories about the ways open values and principles are changing how we think about organizational culture and design. He's worked on Opensource.com since 2011. Find him online as semioticrobotic.

This work is licensed under a Creative Commons Attribution-Share Alike 4.0 International License.