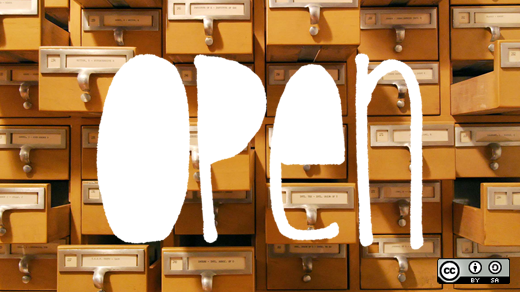 I've been lucky. My career has always involved open source software.
My first serious introduction to open source software came with my first summer work-study job. I was working on my undergraduate degree in computer science, and applied to my local library to work in the children's area. But the library's network admin, Cindy Murdock, snapped me up as soon as she saw "shell scripting" on my resume. From there I began to learn about all the ways open source software can be used in libraries.
My library began using it with BSD-based routers in our small, rural libraries. At the time, dial-up was the only option for Internet access there. By the time I arrived, the library was already using open source software for routers, web servers, and content filters. From there we began branching out into other software. We set up a digital repository using Greenstone, and we were looking for an open source intergrated library system (ILS). We streamlined our people-counting system with a setup including wireless sensors that report to a server. I was able to write a more advanced reporting system using its API, which I also released.
Working in the children' room inspired me to find an open source computer reservation and timing system. After much searching, I eventually wrote my own, which became the Libki Kiosk Management System. Eventually, Koha began to gain a following, and Cindy; our director, John Brice; and I were able to convince the rest of our county library system to pay to develop new features for Koha that would not only allow us to use it, but also allow all library systems with more than 100,000 records to use it as well (we paid to integrate a much faster searching system into the software).
Part of this deal was that I would improve the visual look of the software, and add some features from the previous ILS that were not in Koha at the time. This was the point at which I became a Koha developer and began participating in the community. That is one of the greatest strengths of open source software. It does not have to be "take it or leave it"; it does not have to be "let's ask for this feature and wait as long as we can." We were able to take decisive action to make Koha work for us. We were able to bend the software to our process, rather than have the software bend us.
At this point, I began to work at the Crawford County Library System (CCFLS) full time as a programmer and IT technician. My first task was to migrate the CCFLS from its previous ILS to Koha. I wrote a series of programs to automate the task and released those as free software. I also wrote an offline circulation system for Koha, a rotating collections system, and spine label printer (to name a few).
Around two years ago I received the opportunity to work on Koha fulltime at ByWater Solutions, a Koha support company. At ByWater I've been able to help hundreds of libraries make the switch to Koha, and have been able to add dozens of major features to Koha that these libraries need. I've had the opportunity to work with libraries as far away as China, and as close as my own home town! In addition, my employer gives me the time to work as a community volunteer in various positions, such as quality assurance and release maintenance.
I've also been able to participate much more with the worldwide Koha community, and have even attended KohaCon, an annual conference hosted by libraries on nearly every continent! At these conventions, I get to meet people like me from all over the world—people I've known for years, but only as screen names. We get to show off what Koha can do for potential adopters, discuss where we should take Koha in the future, and just spend time together bonding in a way that, even though we live across the globe, makes us feel like a great, big group of friends.
I love my open source job, and I wouldn't trade it for the world.
View the complete collection of articles from Careers in Open Source Week.
Kyle is a Development Support Specialist at ByWater Solutions. For over a decade, he has dedicated himself to using and developing open source software for libraries. He is an active developer and community member for Koha, the worlds first open source ILS. He is also the developer of Libki, a free open source cross-platform computer reservation & time management system.

This work is licensed under a Creative Commons Attribution-Share Alike 4.0 International License.