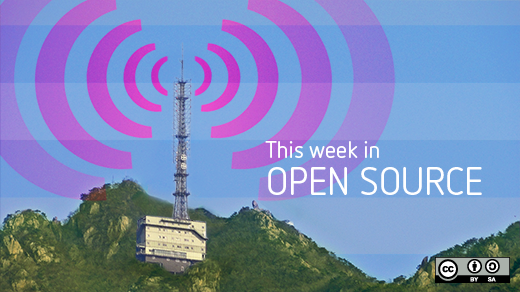 In this week's edition of our open source news roundup, we take a look at Facebook's TODO project, Coursera's Brazil launch, governments moving to Drupal, and more!
Open source news for your reading pleasure.
September 13 - 19, 2014
Facebook's TODO project is a big push to evolve open source
Big news coming from Facebook this week with the launch of the TODO project. At InfoWorld, James Niccolai covers this story of how Facebook and the TODO project want to improve "how open source software is developed and consumed." The TODO project is a partnership between companies like Google, Twitter, Dropbox, and more. The TODO project—which stands for Talk Openly, Develop Openly—will address the goals of those companies and "improve how open source projects are managed and organized, and improve the software itself." This news was also covered on Wired and TechWeek Europe. Be sure to follow the project on Twitter!
Coursera launches in Brazil, to partner with public universities
At TheNextWeb, author Emil Protalinkski covers the news on open online education provider Coursera and its official launch in Brazil. Coursera is teaming up with the University of Sao Paulo and State University of Campinas to offer Portuguese courses. "The two universities will develop courses targeted at Brazilian learners in high-demand topics from entrepreneurship to finance." In addition, the Lemann Foundation will create teacher professional development courses targeting K-12 teachers.
Los Angeles and Australia move to Drupal
Interesting news this week on the Content Management System (CMS) and Drupal front. First, an article on InformationWeek about the city of Los Angeles moving "20 of its public-facing websites from its Oracle content management system to the Drupal open platform." The reason for this move, according to Ted Ross from Los Angeles' Information Technology Agency: "We needed an enterprise CMS that could keep pace with the new capabilities and functions that are increasingly becoming available."
In another article on Asia Pacific Futuregov, we can read about the Australian government who selected commercial partner Acquia for it's open source website plan. Acquia will deliver an open source content management system, govCMS. John Sheridan, government CTO, "believes that the cost savings and efficiency through this shared platform has been compelling for many. Standardising on a unified CMS will allow agencies to save development cost by sharing code, modules and applications, for example."
Why you should fork your next open-source project
On TechRepublic, Matt Asay writes about forking your next open source project. Asay writes about the "right" to fork open source projects. and how it is rarely exercised, and refers to research on 220 forks. According to the research data, forking is effective, so why is it rare? Maybe the answer lies in this quote from the article, and research from Robles and Gonz'alez-Barahona: "Technology should make forks easier; the convenience of forking should just be a strategic matter that allows to maintain balances among the stakeholders of a project."
Inside Seattle's CoderDojo
At GeekWire, Taylor Soper covers the inside story on the Seattle CoderDojo. Soper covers both the CoderDojo in general, and also the Seattle CoderDojo, and how a typical Saturday morning looks like. Where kids "play" with their new Chromebooks, code in Scratch, and more. CoderDojos, free volunteer-led programming clubs for kids, are also a great place for young people to learn about open source.
In other news
A big thanks, as always, to staff members Jen Wike and Michael Harrison, and moderators Scott Nesbitt and Joshua Holm for their help this week.

This work is licensed under a Creative Commons Attribution-Share Alike 4.0 International License.