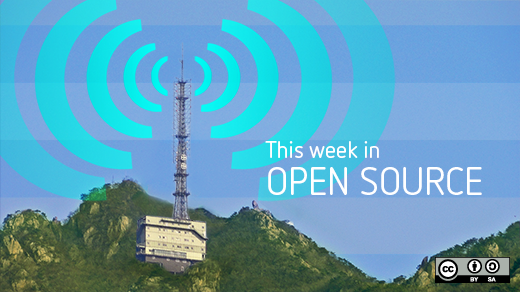 In this week's edition of our open source news roundup, we take a look at Arduinos in Antarctica, a new open source project to stop human trafficking, a standard for the Internet of Things, and more!
Open source news for your reading pleasure.
January 10 - 16, 2015
Arduino for scientists living in Antarctica
A few months ago, I covered news on how the Raspberry Pi has been used in the African wilderness to measure the heartbeat of the delta there. This time, I found an interesting Arduino project, based in the most southern location of Antarctica!
An Italian physicist, Giovanni Bianchini, is a researcher at the Concordia Station, and he is working on a cooling system for optical instrumentation with the Arduino. Researchers in Antarctica must have their equipment set up in highly-insulated and compact shelters, and so they are presented with the problem of overheating. Bianchini's used an Arduino Uno to control the cooling system that lets cold air into the box with instruments using a flow valve and cooling fan. With Arduino's Ethernet Shield, all the system parameters, like temperature and valve position, can be monitored through a web interface. Specs of this project can be found on Google Drive.
Stop human trafficking with Memex
New York startup Parse.ly is participating in an R&D program called Memex, funded by the Defense Advanced Research Projects Agency (DARPA), to develop the next generation of web search by extending it to help do things like detect human trafficking, track the sale of counterfeit goods, and more. To do so, they plan to build an open source, distributed webcrawling API that makes it possible for anyone to launch high-performance crawlers. Parse.ly is working with several open source projects like Scrapy, the Python scraping framework, Apache Storm, and Apache Kafka.
Internet of Things standard by IoTivity
IoTivity, an open source project hosted by The Linux Foundation, has launched a preview release of its open source framework providing connectivity for the Internet of Things (IoT).
IoTivity will release a reference implementation of the IoT standards being defined by the Open Interconnect Consortium. This standard, and the open source implementation, will help ensure interoperability among products and services regardless of maker and across multiple industries. Jim Zemlin, executive director at The Linux Foundation, said "IoTivity is an exciting opportunity for the open source community to help advance this work."
Details about the preview release and how you can get involved can be found at http://www.iotivity.org.
Elsevier launches open access journal
Elsevier, a world-leading provider of scientific, technical and medical information products and services, announces they are creating a new open access journal that will cover all major disciplines. It will be a collaborative development with researchers to enable continueous improvement. The new journal aims to be driven by both new technology and what's going on in the community. Philippe Terheggen, Managing Director of Elsevier Journals, says the new journal will "leverage Elsevier's full potential for the benefit of researchers, by combining quality content with our technological innovations that enable broad content visibility and access, and by facilitating sharing and collaboration." More information is available on Elsevier Connect.
Canadian government hackathon: CODE 2015
Next month, the Canadian government will host its second annual hackathon, known as the Canadian Open Data Experience (CODE). It's a two-day hackathon challenging programmers to use open data to build something for the public, based on available government data.
Last year's hackathon was very popular with over 900 contestants. This year's theme will be announced at the start of the competition, which has $40,000 in prize money. CODE 2015 will have hub points in Montreal, Vancouver, and Toronto. More news on CODE 2015 can be found on http://open.canada.ca/en.
In other news
Thanks, as always, to Opensource.com staff members and moderators for their help this week. Make sure to check out our event calendar, to see what's happening next week in open source.

This work is licensed under a Creative Commons Attribution-Share Alike 4.0 International License.