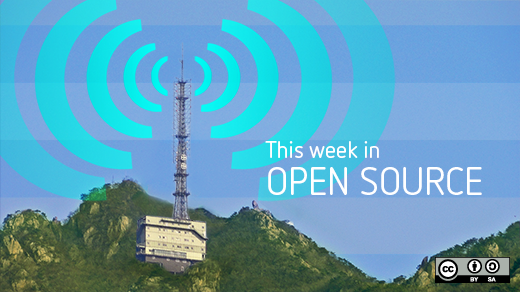 In this week's edition of our open source news roundup, we take a look at community-oriented GPL enforcement, the ONOS project partnering with the Linux Foundation, an open source mod for making music with Texas Instruments calculators, and more!
Open source news roundup for October 11-17, 2015
Software Freedom Conservancy and FSF's Principles of Community-Oriented GPL Enforcement
The Open Source Initiative blogged about the Software Freedom Conservancy's and the Free Software Foundation's recently released document describing the principles of community-oriented GPL enforcement. The jointly released document "outlines basic guidelines for any organization that seeks to uphold copyleft licenses on behalf of the public good" and is available on both the Conservancy's website and on the FSF's website.
Open Access Week: Making open access work
Next week is Open Access week. As an early contribution, the Impact of Social Science blog published an article exploring recent trends in the discussions about open access. The article's author, Stephen Pinfield, analyzed scholarly, peer-reviewed literature along with blog posts and other public discussions about open access from the past five years. VOSViewer, a data visualization tool, was used to identify key themes for further exploration. Pinfield then shares 18 propositions that cover what he considers the "current 'state-of-the-art'" of open access discourse. These propositions cover a wide range of issues related to open access, but Pinfield states they all have one thing in common: controversy. Open access is becoming an accepted idea, but there is still much debate about how open access should work.
ONOS Project partners with the Linux Foundation
The ONOS project and the Linux Foundation are entering into a strategic partnership to develop open source SDN/NFV solution. According to the Linux Foundation press release, "the new collaborative project will advance and bring together the community for ONOS to build open source platforms, solutions and ecosystem for service providers to monetize SDN/NFV, while helping vendors and service providers invent new business models." The Var Guy points out that this is not the Linux Foundation's first SDN venture. The Linux Foundation has been supporting OpenDaylight since 2013. Because ONOS and OpenDaylight do overlap in their area of focus, OpenDaylight's executive director, Neela Jacques, published a blog post sharing his perspective on the announcement, which he views as "good for the industry and good for OpenDaylight even though there may be some short-term challenges."
A behind the scenes guide to the Histories of the U.S. National Mall website
The Roy Rosenzweig Center for History and New Media published Building Histories of the National Mall: A Guide to Creating a Digital Public History Project, a guide that describes the work involved in creating the Histories of the National Mall website. The guide covers design, development, testing, outreach, and more. Each section is detailed and thorough, making it a valuable resource for anyone interested in the development of web-based humanities projects. In addition, the site's technical specs and code are available for those wishing to learn how to implement their own Omeka-based project.
Open source mod for making 1-bit music on TI graphing calculators
Ars Technica UK's Mark Walton published an article about an open source mod for Texas Instruments calculators that makes it so the calculators can function as a music sequencer and drum machine. The project, HoustonTracker 2, was released by German developer Irrlicht Project. It works with TI-82, 83, 83+, and 84+ calculators. A video on YouTube provides an introduction to the project.
In other news
Thanks, as always, to Opensource.com staff members and moderators for their help this week. Make sure to check out our event calendar, to see what's happening next week in open source.

This work is licensed under a Creative Commons Attribution-Share Alike 4.0 International License.