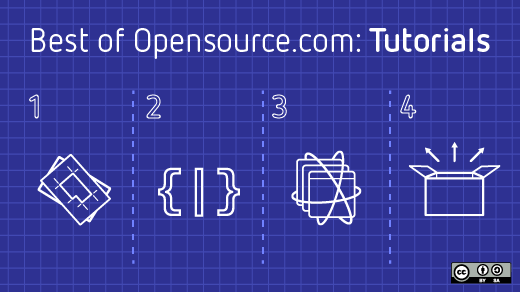 One of the great aspects of open source is that there's always something new to learn. Many of us like to jump right in with new software or technology and learn by trial and error. Sometimes, however, we can use a guiding hand. That hand comes in the form of a good how-to or manual.
In 2015, Opensource.com had you covered. We published a number of great tutorials in this space. Let's take a look back at the best of them.
Getting to grips with file management in KDE
It's been quite a long time since I last used KDE. If I ever decide to go back to it, I'm definitely going to have David Both's guide to Konqueror handy. As Both points out, Konqueror is an amazingly versatile and powerful file management program that is also a very good web browser and FTP client. This tutorial explains how to install Konqueror and walks you through the interface.
Of course, Konqueror isn't everyone's cup of tea when it comes to file management. If you're a partisan of the Dolphin file manager, David Both (again) rides to your aid. He goes into a lot of depth in this one, showing you how to get the most out of Dolphin.
Working with video, the open source way
The last time I seriously worked with video was in they days of 3/4 inch tape. You kids remember videotape, don't you? Maybe your video editing experience is of a more recent vintage than mine, or maybe you're new to video editing with open source tools. If you use Kdenlive (a popular video editing package), you'll want to check out Seth Kenlon's tips for working with the timeline and for making great titles.
Both tutorials gently step you through using Kdenlive. Before you know it, you'll be using the software like a pro. Or, at least, like an enthusiastic amateur.
Lights, music, Raspberry Pi
If you're a fan of open source hardware, you're undoubtedly more than just a little familiar with the Raspberry Pi. And you've probably read about all the nifty projects that hardware hackers and makers have been doing with the Pi.
Earlier this year, Anderson Silva got his hands on one and decided to do something a little different: create a musical Christmas light show powered by his Raspberry Pi. Silva's tutorial, complete with several videos, shows how he did it.
Beating information overload
We all have too much to read and not enough time to read it. Instead of letting all of those articles, blog posts, and the like pile up and taunt you, why not use an open source tool chip away at your reading backlog?
In this tutorial, I explain how to use the Calibre ebook management software to create a daily reading list—a focused set of articles that you can read during your commute. All it takes is a bit of set up and you can generate an EPUB file that you can take with you each morning.
Going beyond hardware and software
As we try to explain here at Opensource.com, the open source way encompasses more than code and devices. We've published several articles this year that explain how to do a variety of things.
Like what? Jos Poortvliet outlined how to plan a lighting talks, while Grant Ingersoll explained how to get started with open source machine learning.
It's important that we encourage young people to get involved in open source, and Joshua Allen Holm shared his thoughts about teaching student sys admins. Documentation is also an important part of any open source project. Rich Bowen pulled together a solid tutorial on how (and why to write good documentation.
Is that it?
Of course not. There's no way I could cover all the great tutorials we've published in this space over the last 12 months. So I'm handing that off to you. Do you have a favorite tutorial published by Opensource.com in 2015? Feel free to share it with the community by leaving a comment.
I'm a long-time user of free/open source software, and write various things for both fun and profit. I don't take myself all that seriously and I do all of my own stunts.

This work is licensed under a Creative Commons Attribution-Share Alike 4.0 International License.