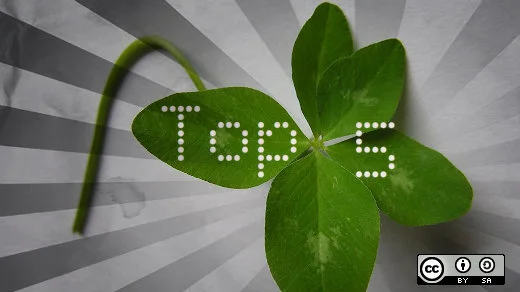 Welcome to the Opensource.com Weekly Top 5!
Subscribe to our YouTube channel to get an alert everytime we add a new video. And, write in to let us know what you enjoy about the Top 5! What topics do you want to see more of? We'd love to hear so we can bring you the kind of news and stories that help you grow and learn more about open source.
Top 5 articles of the week
#5. An open source platform for version control hosting
When it comes to managing revision to source code, Git has quickly become the most prominent tool organizations are using. But, as Jason Baker reports, the Git command line tool itself is only part of the picture. In this article, Jason tells us how GitLab is different. He says that "while they offer a SaaS version of their toolset, you can also download the source to GitLab Community Edition and host your own repositories, enabling much closer control of your code and the infrastructure which supports it."
In related news, last week, GitLab announced they are acquiring Gitorious, a company offering a similar project, which leaves GitLab as the main player for pure, open source collaboration tools.
#4. Tuning Docker with the newest security enhancements
Security guru Dan Walsh gives us an update on what has been added to Docker lately and covers new functionality that is going through the merge process with upstream Docker.
#3. Why we ditched our legacy framework for Symfony
Roland Benedetti tells us why a successful organization would toss out an excellent open source web development platform with an avid developer community. Sounds crazy right? In this story, Roland tells us why they replaced what was working with something new, and how using the Symfony framework full stack is a decision they're glad they made.
Jono Bacon returns for his second post in his Six Degrees column about open source communities and contributions. In this rousing post, he brings out attention to the fact that low-quality contributors are a net drain on resources because other, good contributors have to take time away to support them. He says that everyone should come to an open source community with the desire to find solutions. If contributors need improvement, as a manager or fellow community member, we can be considerate, empathetic, and human in guiding them to success. However, Jono warns: "at some point if they are unwilling or unable to work within the community constructively, the right thing to do is to ask them to find somewhere else to participate and share their energy and talents."
#1. Which programming language is best for beginners?
Part of being a good open source citizen is contributing to the projects and programs you use and care about most—and learning how to code can be a big part of that. But with so many programming languages out there, picking the right entry point into coding can be a challenge. That's why we asked you to answer our poll: Which programming language is best to learn first? Should new coders start with an "old reliable" language like C, or something lighter and perhaps easier to learn, like Javascript or Python? So far, we have over 1000 votes. And, we'd love to have yours.
Jen leads a team of community managers for the Digital Communities team at Red Hat. She lives in Raleigh with her husband and daughters, June and Jewel.

This work is licensed under a Creative Commons Attribution-Share Alike 4.0 International License.