I have dozens of VHS tapes recorded in some cases nearly 30 years ago. I wanted to digitize some of the content and share it with my children via YouTube. I have a digital video camera that's almost ten years old. I also have a VHS/DVD player recorder that I originally purchased to dub these videos. Rather than use the recording deck to create a DVD that I would then use Handbrake to turn into MP4s, I decided to try to use my digital video camera as a passthrough device connected to my laptop.
My laptop has 4GB of RAM and runs Ubuntu 14.04 LTS. The laptop is equipped with a IEEE 1394 (Firewire port) that connects to the video camera. A number of years ago I had used Kino to record videos in a similar manner, but now that Kino is no longer supported I was forced to explore other options. I found a how-to on the Ubuntu Documentation website. It gave very straightforward instructions that I followed closely. I chose not to install Kino, but I did install dvgrab, which is a very useful command line utility for recording digital video.
I made all the correct cable connections from the VHS playback deck via RCA video and audio outputs to the audio/video input on the camera (an IEEE1394 cable from the camera to the laptop). I pressed play on the VCR and typed dvgrab into a terminal window on the laptop and digital video began to record. By default, dvgrab automatically records 998MB video clips that are automatically written to the user's home directory on Linux. Each 998MB clip amounts to about five minutes of video.
After the using dvgrab to capture the video I used the OpenShot video editor to easily create MP4 video clips that could be uploaded to YouTube.
Once you have the OpenShot video editor installed, open the application, go to the file menu and select New Project. Be sure to give your project a name and save it. By creating a project you can easily go back and open a saved project and export the creation in another format if you choose. Next, return to the file menu and select Import files. Find the file that ends with "dv" that was created by dvgrab. After you have imported the file, you can drag it down to the time line at the bottom of the application window. You can import more video files and add them to the timeline and add special effects and transitions. I wanted short clips, so I chose not to do that. Next, you will want to export your video to the desired format. Since I was exporting to YouTube, I selected the Web profile and chose YouTube-HD as my parameter.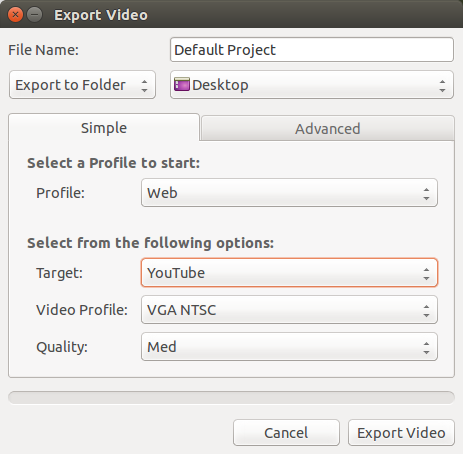 The conversion process for a 1GB input file is very quick. The completed file can easily be uploaded to YouTube. You can choose other output file types for Picasa, Flickr, Vimeo, and more. OpenShot video editor also allows you to create content that can be output to DVD format as well. OpenShot itself does not have the option of DVD creation from within the program.
Educator, entrepreneur, open source advocate, life long learner, Python teacher. M.A. in Educational Psychology, M.S. Ed. in Educational Leadership, Linux system administrator.

This work is licensed under a Creative Commons Attribution-Share Alike 4.0 International License.