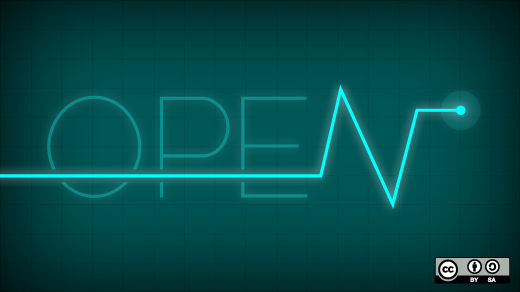 Thanks in large part to open hardware platforms like BITalino, biosignals are no longer bound to the walls of a medical practice; whether you're looking for the next cool project or to learn something new over summer vacation, physiological computing has plenty to offer. This article highlights a few ideas to get your creative juices flowing:
Muscle music
The electrical activity of our muscles is one of the easiest body signal sources to tap into with Electromyography (EMG). The nice thing about muscle signals is that the intensity and duration of their activation can be voluntarily controlled and used for a variety of applications.
One such application is musical performance. I still remember Atau Tanaka's forward-thinking experiments with The Sensorband back in the '90s. Whether you're channeling data from your muscles (almost) directly into a sound card or using them to control an instrument, muscle music can be a lot of fun. If you don't believe it, just check out Terry Crews's solo jam session, which, although it might have had a little CGI help, is mostly doable:
Emotional cartography
Have you ever thought about how your nervous system reacts when you go to the coffee shop? How about when you're stuck in traffic? A few years ago, Christian Nold set out to find the answers to such questions, and it's pretty amazing what he managed to accomplish with a simple Electrodermal Activity (EDA) sensor, a GPS, and some nifty data visualization wizardry.
Nold toured the world to involve thousands of people in his "Bio Mapping" experiments, producing beautiful maps of how singular individuals and groups of people react to different parts of a city. The results of this project are compiled in the book Emotional Cartography, and the best part is that with today's open hardware devices, you too can be an emotional cartographer.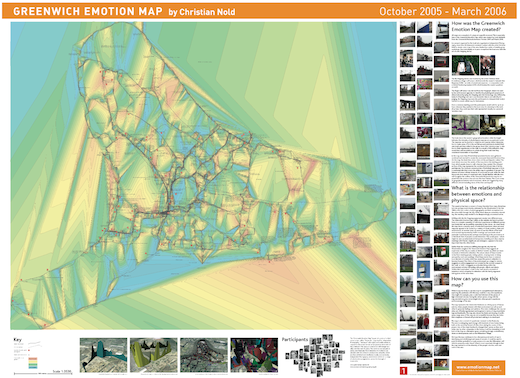 Greenwich emotion map by Christian Nold. CC BY-SA 3.0.
NeuroKnitting
Whether you want to control World of Warcraft or set a world record for the fastest lap around Mattel's Mindflex toy, brain waves can provide you with plenty of inputs to work with. One project that caught my eye back at Maker Faire Rome 2013 was NeuroKnitting, a collaboration between artistic-duo Varvara Guljajeva and Mar Canet, and scientist Sebastian Mealla.
These guys hooked themselves up to an Emotiv EEG headset, recorded their brain waves whilst listening to Bach's Goldberg Variations, and "printed" them in the form of scarves using the Knitic open hardware knitting machine. Start building your playlist and head over to the project website to learn how to make your own physiological computing garments.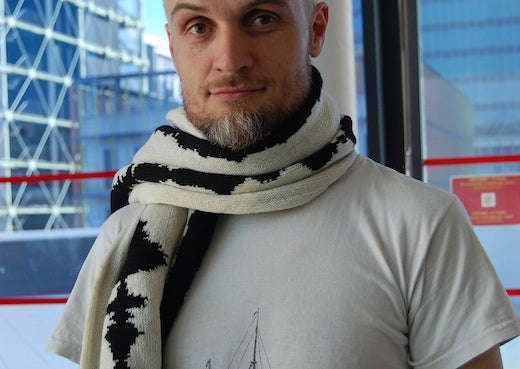 Model Sytse Wierenga sporting a NeuroKnitting swag (image used with permission from the project team).
Air writing
Steering your drones like a Jedi is one thing, but turning air writing into text is even cooler. Christoph Amma is doing just that. He's working on a system based on multi-axis inertial data that automatically identifies the letter being drawn in the air and turns it into a character on a computer or mobile device.
Using sensors mounted on a glove, his system can recognize complete sentences and has a vocabulary of more than 8,000 words. Check out the news video below to see the system in action:
Art from the heart
We're all aware that the heart is a pretty important instrument in the fine tunes played everyday by our bodies, but some people take that to a literal extreme. A year ago I came across The Glitch Chamber, an immersive environment by the brainiacs at Barcelona-based Proto Pixel studio where your heartbeat dictates the visuals and sounds experienced when you enter an interactive room.
If that wasn't out-of-the-box enough already, how about a whole orchestra playing a composition generated in real time? That's right; The Heart Chamber Orchestra consists of 12 classical-trained musicians and the musical duo TERMINALBEACH. Using the heartbeats of the musicians, a musical score is created in real time and then read and played by musicians. The result is pretty neat and definitely got a few ideas roaming around my mind:
Open
Hardware
A collection of articles on the current state and future of open hardware.
Hugo Plácido da Silva | Hugo completed a BS in Computer Science, and a MS in Electrical and Computers Engineering. Since 2004, Hugo is a researcher at the IT - Instituto de Telecomunicações, where he's currently pursuing his PhD. In 2012, he was a visiting researcher at the Computational and NeuroEgineering Labority (CNEL) from the University of Florida.

This work is licensed under a Creative Commons Attribution-Share Alike 4.0 International License.