Unmanned Aerial Vehicles' (UAV) applications and capabilities are advancing at a phenomenal rate, and the cost of these systems are decreasing at an equally impressive rate, largely because of open source. In many cases, open source projects are outpacing the development of their equivalent closed source systems.
To further accelerate these developments, in late 2014 several companies came together to form the Dronecode Foundation, a nonprofit organization that brings together existing open source drone projects and assets under one umbrella organization governed by The Linux Foundation.
What is the Dronecode Foundation?
Founding Dronecode members include 3D Robotics, Baidu, Box, DroneDeploy, Intel, jDrones, Laser Navigation, Qualcomm, SkyWard, Squadrone System, Walkera, and Yuneec. Dronecode includes the APM/ArduPilot UAV software platform and associated code, which until last year was hosted by 3D Robotics, a world leader in advanced UAV autopilot and autonomous vehicle control. Today the project coordinates and prioritizes funding for five other initiatives with backing from 28 member organizations all committed to collaborating on a de facto standard platform for consumer and commercial drone/robotics open projects.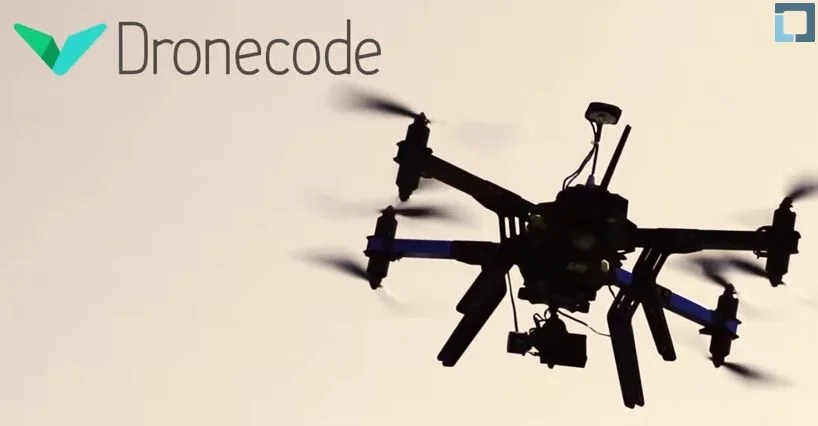 Original image by Dronecode Foundation, Copyright.
Dronecode is seeing more and more companies and research institutions join its collaborative effort. We recently announced six new silver members, including Erle Robotics, Event 38 Unmanned Systems, Parrot, and others, as well as four new sponsors. Dronecode's significant influx of financial and technical support is driving rapid, diverse UAV progress in areas like vision processing, obstacle avoidance, and environmental and situational awareness. While still a nascent market, industry experts estimate that the commercial drone market will reach $1.27 billion by 2020. Backing for Dronecode is taking off as many begin pursuing drones for humanitarian aid, ecological, agriculture, logistics and parcel delivery purposes.
Dronecode encompasses open source projects that control flight, enable mission planning, and otherwise make drone flight and advanced functionality possible. Its common, shared open source UAV platform has been adopted by many of organizations on the forefront of drone technology, including 3DRobotics, Parrot, Qualcomm, Intel, Yuneec, Walkera, and others.
Dronecode's community and users
In the past year, Dronecode's developer community has grown from 1,200 to more than 2000 contributors, with more than 12,000 commits in the codebase. The rate of development is rapid with 1,000 commits being reviewed a month, with well over 2 million lines of code across the various Dronecode projects. Developers from Qualcomm, Intel, Parrot, Yuneec and many others are actively engaged in the development of the Dronecode technology stack. As a result, updates, new releases and project milestones are in motion all the time. For example, in late May, the APM project released version 3.3 of its flight code, and the PX4 project reached a milestone with the first RC candidate for release 1.0.
We have more than 200,000 systems in operation right now, but as is often the case with open source, it's difficult to know exactly who all the users are. We do know that we have between 700 and 1,000 companies manufacturing vehicles based on this project. In fact, several companies have recently launched new Dronecode-powered models. 3DRobotics announced Solo in April, which is built on APM 3.3 flight code, and created an SDK toolkit called Dronekit, extending DroneAPI for developers to build their own Apps. Erle Robotics developed a drone with its own App marketplace, leveraging Ubuntu, APM, and ROS. Walkera recently introduced the DroneCode APM copter, the QR x350 Premium, the first model of the iUAS 2015 series.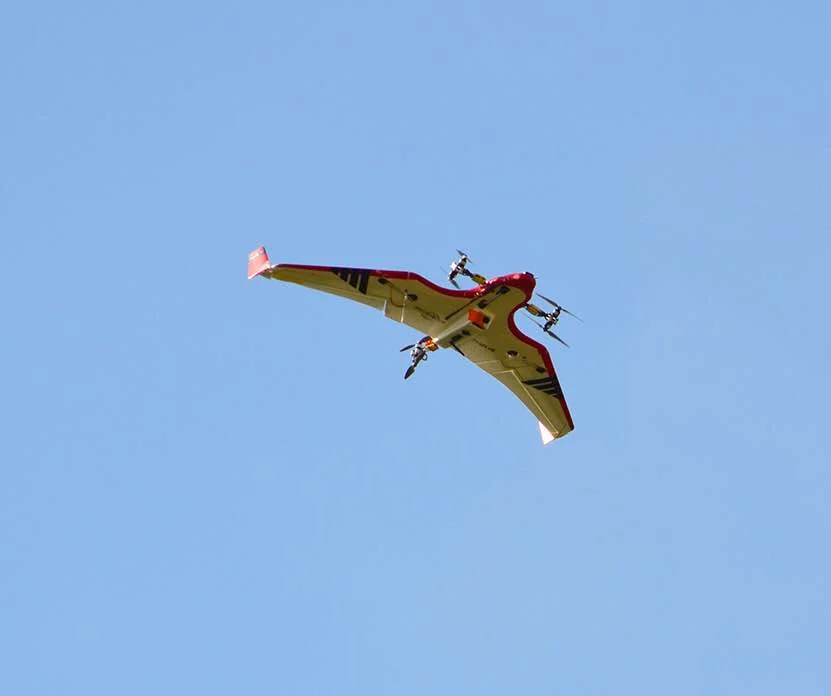 Original image by Trevor Strand, Team TiltRotor. Copyright Trevor Strand. 
Putting drones and open source to good use
We're seeing interesting and practical applications of Dronecode technologies, from photography and agriculture to humanitarian aid and search and rescue. Initiatives range from technically challenging to "why not just try it?" Team Tilt Rotor, a pair of aeronautical engineers, for example, designed and built an osprey-style VTOL aircraft in their garage. Swiss Federal Institute of Technology students continue to enhance obstacle avoidance capabilities in the PX4 flight stack, while a team at ARCOS lab at Johns Hopkins is pushing the boundaries of what's possible with sophisticated navigation capabilities.
Organizations like Uplift Aeronautics and OpenRelief are on the forefront of humanitarian relief, using drones to supply medical supplies in war zones and to provide search and rescue assistance during in the event of earthquakes. The Humanitarian UAV Network is helping to establish guidelines and coordinate rapid response teams on the use of drones for effective disaster response.
Several companies are also fundamentally changing how site surveys and safety inspections are carried out using drones instead of putting people into harm's way.
Low Orbit Helium Assisted Navigator (LOHAN), a project from an intrepid team at The Register, is launching a space plane into the stratosphere and bringing it back down in a controlled manner, testing code and hardware to the extreme. The World Wild Life Fund is funding projects to test the feasibility of using UAVs in its conservation efforts to track down illicit poaching activities.
All these innovations and more rely on open source Dronecode software and hardware projects. Bringing all these different groups together is what Dronecode is all about. We allow manufacturers, vendors, service providers and end users to work together, solve problems, fix interoperability issues and debate and resolve agreements around common communications protocols between components, while making it easy enough for users to deploy confidently and securely.
Dronecode also provides a platform to enable research and academic groups to focus on their areas of expertise, with an extensible codebase to build on, which will provide many of the advances in flight control and data processing that will drive the next generation of features. Essentially, Dronecode is developing a rich open commons for UAV advancement.
To become a part of the Dronecode Project, visit the membership page.
Open
Science
A collection of articles on the topic of open source software, tools, hardware, philosophies, and more in science.
In 2015 Trishan de Lanerolle joined the Linux Foundation's Collaborative Projects team as Program Manager for the Dronecode Foundation to advance development of Unmanned Aerial Vehicles.

This work is licensed under a Creative Commons Attribution-Share Alike 4.0 International License.