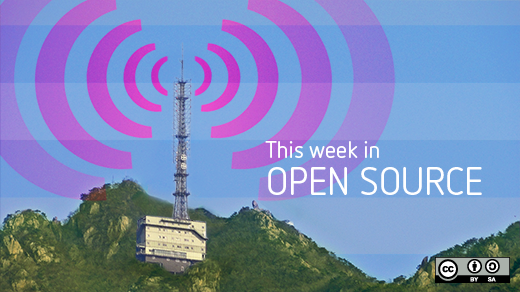 In this week's edition of our open source news roundup, we take a look at the new Cloud Native Computing Foundation from the Linux Foundation, space listening, the new generation of robotics, and more.
Open source news roundup for July 18 - 24, 2015
Linux Foundation announces Cloud Native Computing Foundation
InfoWorld shares the news about the new Cloud Native Computing Foundation (CNCF) as a layer on top of the Open Container Initiative (OCI), formerly the Open Container Platform. The CNCF "aims to bring together many of the companies involved with cloud-native applications or services that are container-packaged, dynamically scheduled and micro services-oriented." It will also "govern both containers and the stack of technologies around them e.g., Google's Kubernetes."
From the official announcement: the new organization "aims to advance the state-of-the-art for building cloud native applications and services." The CNCF will also work with the Open Container Initiative on its container image specification.
During his keynote at OSCON this week, Linux Foundation's Jim Zemlin said: "The overwhelming interest in the Open Container Initiative is representative of both the opportunity containers offer for application development and the challenges we face with fragmentation. With such strong community support and collaboration, we're confident this effort will rise to the opportunity."
Space listening with open data and software
The world has been listening to radio signals in space since 1960. Recently, Professor Stephen Hawking and Yuri Milner announced a new $100 million project called Breakthrough. Its aim is to listen continuously and gather "as much data in a day as previous SETI initiatives have been able to do in a year."
This project has two parts; the second called Breakthrough Listen. That team will use and develop software for sifting and searching through a flood of data—the data will be open to the public and the software will be open source.
The new generation of robotics are industry-agnostic and open source 
First, robots were made to do repeatable tasks, and required costly reconfiguration to learn new ones. Today's generation of robots are more flexible, and the platforms some are built on are industry-agnostic, some even open source.
Greg Nichols writes for ZDNet about his talk with CEO of Fetch Robotics, Melonee Wise, about the Fetch System, a robotic system for warehouses and more that is based on the open source Robot Operating System.
50 applications, tools, and services go open source at IBM
IBM announced they are making 50 projects open source via the site DeveloperWorks Open. There developers can access the code as well as educational resources. IBM is "a strong supporter of open source projects. Currently, it contributes to more than 150 different software projects, including Spark, OpenStack, Cloud Foundry, Node.js, Linux, and Eclipse."
A new international standard: Open Document Format
Italo Vignoli writes about the new Open Document Format (ODF) 1.2 international standard published by the International Oorganization of Standardization (ISO) and the U.S. Securities and Exchange Commission (SEC). ODF is the native file format for many applications, including LibreOffice. The standard is available in three parts: schema, formula definitions, and packages.
In other news
Thanks, as always, to Opensource.com staff members and moderators for their help this week. Make sure to check out our event calendar, to see what's happening next week in open source.

This work is licensed under a Creative Commons Attribution-Share Alike 4.0 International License.