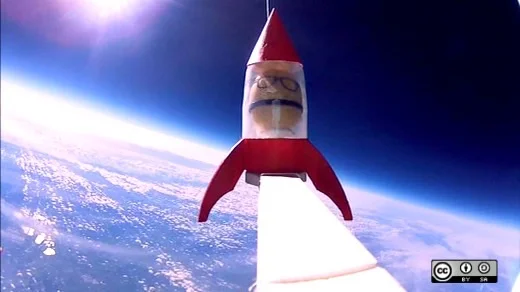 Lots of people embed a Raspberry Pi into their projects—whether it's an arcade machine, a robot, a photo booth, or a weather station. You can develop your application with the Pi like it's a desktop, then disconnect your mouse, keyboard, and monitor and embed it into your project, short-term or long-term.
Another useful property of the Raspberry Pi is its weight–the Model B weighs 45 grams, and the Model A+ just 23 grams. This comes in very handy for sending a data logger, GPS tracker, and camera up into the sky on a helium balloon! That's exactly what amateur high altitude balloonist Dave Akerman has been doing since 2012.
Akerman's hobby is sending helium balloons up into the sky, and when the Raspberry Pi came out he found a way to take his hobby to new heights. Initially he used a USB webcam to capture images from near space. He learned how to transmit the photos live back to his computer at home.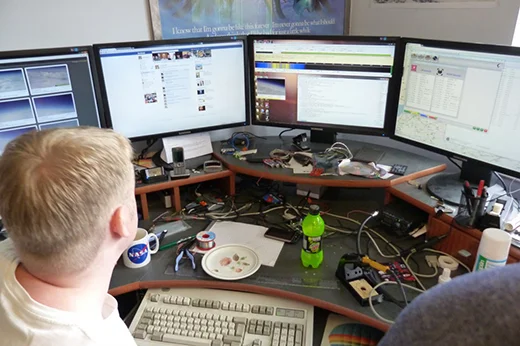 Copyright Dave Akerman.
Photos of the earth
Dave's managed to get some incredible photographs looking down at Earth from near space. In some, if clear enough, you can make out entire distinguishable masses of land. In others you can see the curvature of the Earth.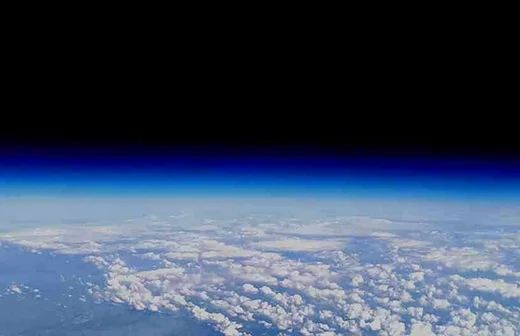 Copyright Dave Akerman.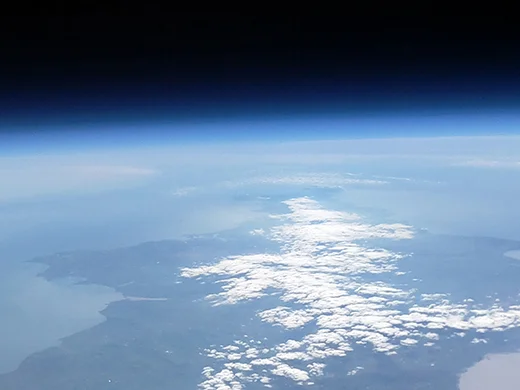 Copyright Dave Akerman.
Photo courtesy of the Raspberry Pi Foundation. CC BY-SA 4.0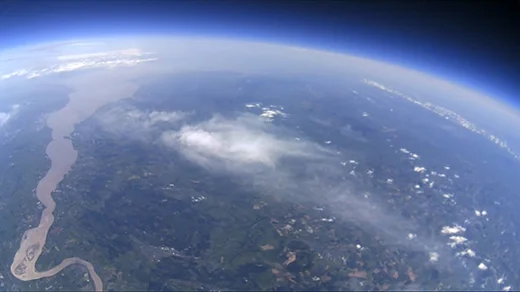 Photo courtesy of the Raspberry Pi Foundation. CC BY-SA 4.0
Babbage skydive
Dave also wanted to send Babbage Bear, the Raspberry Pi mascot (named after Charles Babbage), up into space to recreate Felix Baumgartner's world record skydive. Red Bull spent £30,000,000 and Felix jumped from 38,969 meters. On a budget of £300, Babbage jumped from 39,000 meters. Like Felix, Babbage was returned to Earth unharmed. You can read about the preparation and the aftermath on the Raspberry Pi blog.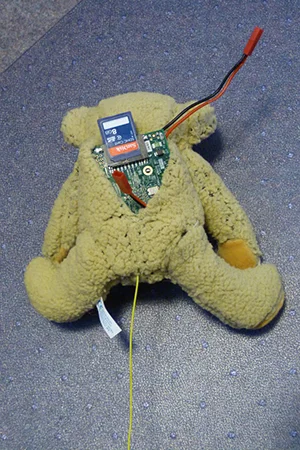 Copyright Dave Akerman.
Heston's potato
Celebrity chef Heston Blumenthal once did a TV show involving sending a potato into the stratosphere–purely to see if they could still make mashed potatoes with it (turns out you can). With Dave's assistance, they were able to launch the potato into the sky and have the Pi take photos of it looking down on Earth.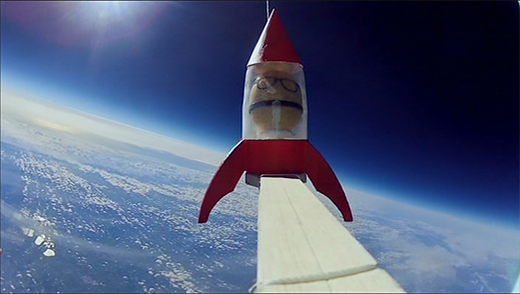 Photo by Dave Akerman. CC BY-SA 4.0.

Wreck my dress
A bride's wedding dress is a special and sacred item that must be looked after and kept immaculate right up to the wedding day and through the ceremony. However, once the wedding day's out of the way, the pressure's off–and some brides have taken to purposefully spoiling their dress in fun and interesting ways–like paintballing. One bride took up the services of Dave Akerman and sent her dress into the skies. She then tracked and retrieved it, and made a film of the footage of it floating around the Earth's atmosphere, followed by it being rediscovered by the bride, and worn again, knowing it had been to (near) space.

Copyright Dave Akerman.
Pi in the Sky (PITS) board hardware add-on
Dave did a number of these flights, and like anything he learns more about how it works every time. He's learned more about weight management and balloon pressure; he's created a suite of software for data logging and tracking the payloads; and he's even collaborated with Anthony Stirk who created a hardware add-on board that enables other people to do their own balloon launches: The PITS board (Pi in the Sky) is available to buy, and both the hardware and software are open source. See the PITS website for more information.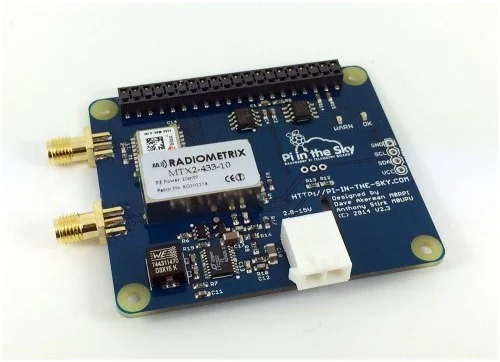 Courtesy of Pi in the Sky, Copyright.
Schools
Not only has Dave put all the wealth of his experience into the hardware and accompanying software allowing anybody else to do their own balloon launched–but he's even going in to schools and setting up launches for young kids to send a balloon up and be able to track their own payloads from their classrooms.
Skycademy
James Robinson is one of the school teachers Dave Akerman kindly ran a balloon launch session for his school last year. James involved the students in every aspect of the launch—from building the payload and configuring the software to filling the balloon and letting it go. Since then, James has been employed by the Raspberry Pi Foundation to join our education team, and the first thing he said he wanted to do was to run a high altitude balloon training course for teachers. We run a regular Raspberry Pi professional development course for teachers called Picademy, so naturally the HAB training would be called Skycademy. We ran this course last week and 24 teachers and youth leaders got the chance to launch their own payloads and track them as they flew over Southeast England. They're now all equipped with the knowledge and kit to do their own launches and are all excited to do their own launches!
The sky's the limit... or is it?
The altitude Dave's balloons reach is not technically space, and no Raspberry Pi has actually been to space—yet. But in December, two Raspberry Pis will be joining British ESA Astronaut Tim Peake on his mission aboard the International Space Station. They'll be equipped with a Sense HAT (a sensor board and LED matrix) and a camera module.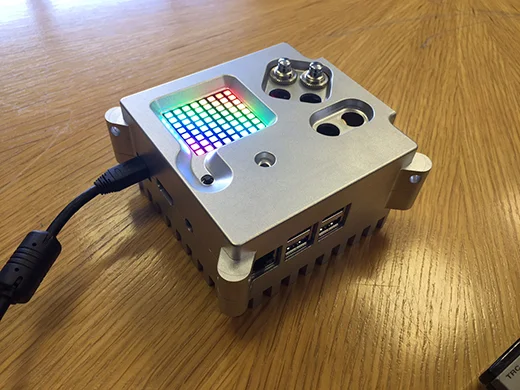 Photo courtesy of the Raspberry Pi Foundation. CC BY-SA 4.0
The Pis will be running code written by the school students who won the Astro Pi competition. Read more about Astro Pi, and see mission updates on the Raspberry Pi blog.
Raspberry Pi
column
This article is part of Ben Nuttall's Raspberry Pi column, where he shares news and stories from the world of tiny computing.
Ben is a software engineer for BBC News Labs, and formerly Raspberry Pi's Community Manager. He's into Linux, Python and all things open source! Follow Ben on Twitter @ben_nuttall.

This work is licensed under a Creative Commons Attribution-Share Alike 4.0 International License.