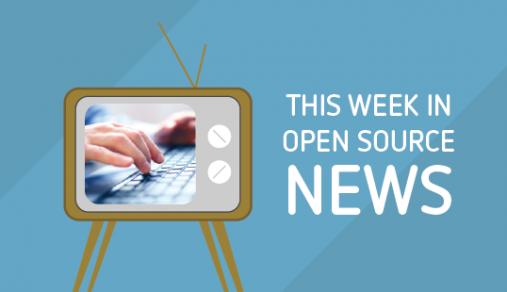 In this week's edition of our open source news roundup, we take a look at a $5 Linux server, China's adoption of open source software, Plasma 5.8, and more.
Open source news roundup for September 18-October 1, 2016
Startup sells a stamp-sized Linux server for $5
It seems that every week a new startup announces a newer, smaller, cheaper computer. Last week was no different. Onion Corp., a Boston-based startup, announced a Linux development computer called the Omega 2. It's the size of a postage stamp and sells for just $5.
According to Onion Corp., its Omega 2 is an IoT computer that "combines the tiny form factor and power-efficiency of the Arduino, with the power and flexibilities of the Raspberry Pi." The Omega 2 is expected to ship in December. The company said that the tiny computer is fully functional out of the box and does not need Wi-Fi dongles or OS installation. It has a number of simple apps with it and a store where more can be obtained.
Why China is the next proving ground for open source software
Big Data infrastructure is important to China, and it has decided that open source is the way to go. In addition to using open source solutions such as OpenStack, Chinese companies are creating and sharing code with the open source world. One example of this is PaddlePaddle, an Apache-licensed machine learning platform by Baidu.
Alluxio, a US-based developer of virtual distributed storage systems, is taking advantage of the sheer scale of the Chinese market to stress test its software. Alluxio CEO and founder Haoyuan Li, says, "Many of our largest production deployments are in China, and that's on purpose."
KDE Plasma 5.8 LTS to land October 4
KDE Plasma 5.7.5 will be the last in the 5.7 series of releases, and Plasma 5.8 LTS is scheduled for release on October 4. Plasma 5.8 will be compatible with the SDDM 0.14 display manager and will have Wayland integration. Wayland is a rendering engine replacement for X.
KDE Plasma 5.8 LTS will be a long term support version—hence the LTS designation. It will be supported until 2018.
Some US universities to adopt an open source solution for high priced textbooks
It has been many years since I went to college, and even in the 1960s I—well, my parents—thought that textbook prices were outrageous. These days, students need to take out loans just to cover the cost of their textbooks. Enter seven universities in Rhode Island that are trying to save students money by open licensing at least some textbooks.
According to a report by the Student Public Interest Research Groups (PIRGs), "Open textbooks are faculty-written, peer-reviewed textbooks that are published under an open license—meaning that they are available free online, they are free to download, and print copies are available at $10-40, or approximately the cost of printing." The report also analyzed the potential cost savings of open textbooks at over $100 per course for each student in most instances.
Open source climate change data available for first time
Open source is not just about software and hardware; it is also about the data stored in open source databases and crunched by open source software. NASA, NOAA, and other sources are providing open source climate data for two communities that have been seriously affected by climate change.
Sonoma, California, and Caldas, Columbia, were fortunate to find each other through USAID. They were able to meet and work together to address their own unique climate challenges. Sonoma wine grapes have been affected by the great California drought, while Caldas has been experiencing floods and landslides that impact its coffee production. By sharing data and planning information, the two regions were able to learn from each other.
In other news
Thanks, as always, to Opensource.com staff members and moderators for their help this week. Make sure to check out our event calendar, to see what's happening next week in open source.
David Both is an Open Source Software and GNU/Linux advocate, trainer, writer, and speaker. He has been working with Linux and Open Source Software since 1996 and with computers since 1969. He is a strong proponent of and evangelist for the "Linux Philosophy for System Administrators."

This work is licensed under a Creative Commons Attribution-Share Alike 4.0 International License.