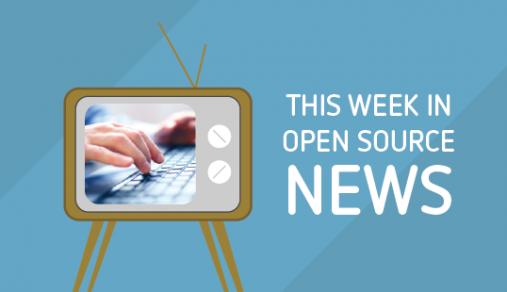 In this edition of our open source news roundup, we take a look at the US government making its open source code public, a new container security project, Mozilla's latest browser project, and more.
Open source news roundup for October 30-November 12, 2016
Code.gov shares US government open source code
Earlier this year, the US federal government introduced a policy that encouraged agencies to make their custom code open source. You needed to search through a bunch of GitHub repositories to track down that code. Now, Code.gov makes it easier to find the government's open source code.
According to Engadget, Code.gov "is the web-based hub for the initiative and it features around 50 projects from 10 different agencies." Some of those projects include the Data.gov and Federal Spending Transparency websites, the White House's Facebook chatbot, and a number of APIs (application programming interfaces) and SDKs (software developer kits). US Government Chief Information Officer Tony Scott sees Code.gov as giving "citizens the ability to participate in making government services more effective, accessible, and transparent". Scott also wants the site to enable "the brightest minds inside and outside of government to work together to ensure that federal code is reliable and effective."
If you're interested, you can explore the code yourself.
New security project for Kubernetes debuts
The growing popularity of containerized applications has also resulted in a focus on securing those applications. A new startup named Aporeto has announced the Trireme project, which it says offers a new security model for Docker and Kubernetes.
The article at eWeek states Trireme "is an attempt to build a new type of security system for Kubernetes and Docker that relies on authentication and authorization, rather than just network isolation." Dimitri Stiliadis, founder of Aporeto, said that Trireme can "can do application segmentation irrespective of network infrastructure and without the use of a firewall or VLANs." Using Trireme, containers can only communicate if they know each other's digital identity and if the network security policy allows them to communicate.
Aporeto has created a a GitHub repository for Trireme that includes both code and additional information about the project.
Mozilla releases new browser engine for Firefox
Times change, and so do web browsers. Mozilla has been developing a replacement for the Gecko rendering engine in Firefox for a while now. That replacement is named Quantum, and Mozilla is making the Quantum project public.
Quantum is intended "to make Firefox faster and more reliable than ever". It's based on Mozilla's Servo prototype browser engine and is written in the Rust programming language. Mozilla hopes to move Mozilla to Quantum by the end of next year. Technology news site Phoronix notes that "migration to the new engine is expected to be gradual over 2017 as Gecko gets gutted and replaced by Servo/Quantum code."
You can learn more about the project at the Quantum wiki.
Mythbuntu officially discontinued
Soon, it's going to be a bit harder to use the open source MythTV digital video recorder. That's because the Linux distribution built around MythTV, called Mythbuntu, has been discontinued. That's because of a lack of developers—the team has gone from 10 developers to just two. Fossbytes also notes that the Mythbuntu team has been finding it "difficult to keep up with timely ISO release schedules as well as maintenance of the existing versions."
That doesn't mean MythTV is dead. The core software is still available, and the Mythbuntu team suggests that instead of Mythbuntu, users install a distribution like Xubuntu and install the MythTV packages using the Mythbuntu Personal Package Archive (PPA), which will continue to contain MythTV updates.
In other news
Thanks, as always, to Opensource.com staff members and moderators for their help this week. Make sure to check out our event calendar to see what's happening next week in open source.
I'm a long-time user of free/open source software, and write various things for both fun and profit. I don't take myself all that seriously and I do all of my own stunts.

This work is licensed under a Creative Commons Attribution-Share Alike 4.0 International License.