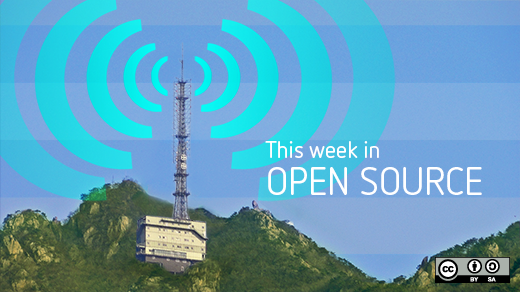 In this week's edition of our open source news roundup, we take a look at the Linux powered robo-drones, open source software for data overload and data management, and more.
Open source news roundup for February 7 - 12, 2016
Our Linux-powered robotic future
Erle Robotics, which makes inexpensive components for DIY robotics projects and drones announed PXFmini, a shield designed for the $5 Raspberry Pi Zero that includes a suite of sensors including gravity, gyroscope, compass, pressure, temperature, and battery sensors. This shield is intended for use in robotic drones.
It uses the Robotic Operating System (ROS), an open source framework developed by Willow Garage, released under a free license in 2009. ROS is now maintained by the Open Source Robotics Foundation. In 2014, OSRF announced plans to add ARM Linux support to the Robot Operating System (ROS).
Open source to save us from data overload
With huge amounts of data accumulating in massive data lakes, many companies are swamped in structured, semi-structured, and unstructured data. Analyzing this disparate data is a Sisyphusian task that can overwhelm the staff and software meant to extract useful business intelligence.
An article by Ben Rossi at Information Age suggests that the tendency of businesses to collect massive amounts of data and attempt to figure out how to analyze it later is only one part of the problem. He says that, in addition to deciding what information is relevant as a first step, methodologies such as agile should be used to build a custom analytic solution designed to deliver the desired insights.
Rossi says, "Open source big data platforms offer incredible capabilities to build not only insights solutions, but also forecasting and providing predictive analytics solutions through mathematical and statistical models that have the ability to crunch through large volumes of data." He points out that, "[Open source] is a strong choice for enterprises that have a growing expectation of flexibility and faster results. There's no vendor lock-in and the associated costs are lower than proprietary solutions."
openDCIM for data center asset management
Many people use spreadsheets for purposes for which they weren't necessarily intended. Spreadsheets are a horrible substitute for real databases even though they are often used for that reason. For example, many data centers use spreadsheets for Data Center Infrastructure Management (DCIM). And, now there's specialized open source software designed for DCIM.
openDCIM is an open source project created at the US Department of Energy's Oak Ridge National Lab data center in Oak Ridge, Tennessee. This free and open source (FOSS) software provides structured means to document every aspect of a data center. Using a graphical web interface, the following are easily managed both for entry and retrieval: data for power, patch panels, air flow, data center maps, cabinet layouts, switch and port assignments, and much more. Scott Milliken, manager of the Oak Ridge data center says, "This is the complete solution in terms of the data center asset management. You can go from download to running in 30 minutes."
Milliken will speak about the importance of managing your colocation data center environment and about openDCIM at the Data Center World conference in Las Vegas in March. Visit the event website to register or to learn more.
In other news
Thanks, as always, to Opensource.com staff members and moderators for their help this week. Make sure to check out our event calendar, to see what's happening next week in open source.
David Both is an Open Source Software and GNU/Linux advocate, trainer, writer, and speaker who lives in Raleigh North Carolina. He is a strong proponent of and evangelist for the "Linux Philosophy."

This work is licensed under a Creative Commons Attribution-Share Alike 4.0 International License.