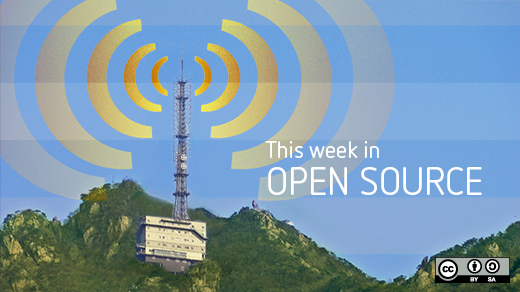 In this week's edition of our open source news roundup, we take a look at a new web-based office suite, UNICEF's drive for open source for kids, Europe's continued support of open source, and more.
Open source news roundup for January 30 - February 5, 2016
Let's get going!
Kolab and Collabra join forces on web-based office suite
While Google Apps and Microsoft Office 365 currently hold the majority of marketshare in the world of the web-based office suite, that could be changing, thanks to a partnership between Collabora Productivity and Kolab Systems.
The two firms—known for offering LibreOffice to enterprises and for open source groupware, respectively—have come together to "offer Collabora's CloudSuite as an integrated component of Kolab," writes Swapnil Bhartiya at CIO Magazine. According to Bhartiya, "many enterprises are wary of using solutions they don't have any control over, or where they can't see the source code." And that's a niche CloudSuite wants to fill.
Aaron Seigo of Colab said that this partnership will leverage Kolab's user base, which "is typically professionals, be they individuals such as freelance journalists concerned about privacy, SMEs looking for an affordable and feature rich solution, ASP/ISPs looking for a scalable solution, large enterprise who value feature richness, and governments that are concerned about sovereignty." We'll have to wait a bit to see if Seigo is right. The first fruits of the Kolab/Collabra partnership are scheduled for the second quarter of this year.
UNICEF establishes fund to drive open source innovation to help children
The organization this week announced the UNICEF Innovation Fund (the United Nations Children's Fund) to "back local tech startups in the emerging world" according to Quartz Africa. The Fund, which has been seeded with $9 million (USD), will "support software projects that are creating or improving technologies designed to help children (or any 'youth under 25')," writes Christopher Tozzi at The VAR Guy website. The clincher? Those software projects must be open source to qualify for funding.
Europe continues to lead the way with FOSS
Whether it's local government ditching Windows for Linux or government agencies running key infrastructure on FOSS, many European leaders seem to realize the value and benefits of open source. That embrace of open source continued last week, punctuated by two announcements.
First, German federal pension fund Deutsche Rentenversicherung Bund, which runs on Red Hat Enterprise Linux, issued tender for IT services. The fund "is looking for assistance with its implementation of components related to web applications, including Apache Tomcat, Apache Tiles and Apache CXF." As well, it's seeking support for open source development tools.
Second, the "European Parliament has called on the European Commission to increase the share of free and open source software." According to Open Source Observatory, the European Parliament believes FOSS can "boost competitiveness through interoperability and standardisation." As well, adopting FOSS can bolster "trust and security in digital networks, industries, services and infrastructures and in the handling of personal data."
Square open sources its guide to supporting female engineers
Open source is about far more than code or hardware. Some companies, like Seneca Systems and Clef, have put their employee handbooks and other corporate documents on GitHub. Credit card processor Square, known for its embrace of open source, is joining that club.
Square has put its guide to supporting female engineers on GitHub for everyone to view and fork. The guide is called the WomEng Handbook and, according to VentureBeat, Square "wants it to be a guide for other businesses that have an interest in supporting a diverse workforce." But why make the guide open source? Square readily admits that the company isn't the source of wisdom on this subject. By hosting the guide on GitHub, Square is giving a wider audience a chance to read it and share their ideas about it.
If you're interested in learning more, head on over to GitHub. According to Alyssa Pohahau, the engineer at Square who wrote the WomEng Handbook, the guide isn't just for female engineers: "It could also be used with other groups inside an organization."
In other news
A big thanks, as always, to the Opensource.com moderators and staff for their help this week.
I'm a long-time user of free/open source software, and write various things for both fun and profit. I don't take myself all that seriously and I do all of my own stunts.

This work is licensed under a Creative Commons Attribution-Share Alike 4.0 International License.