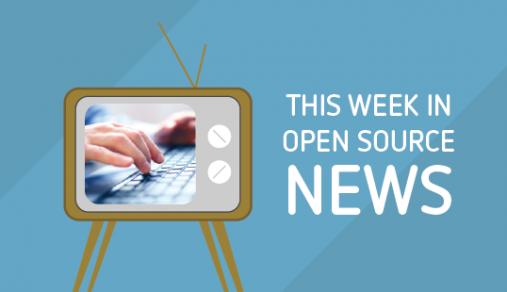 In this week's edition of our open source news roundup, we take a look at open source Thyroid treatment software, Strontium-90 and a Raspberry Pi for teaching open source culture to college students, Europe's two main free software advocacy groups push for open source software, and more.
Open source news roundup for March 26 - April 1, 2016
Open source, a black box, and radioactivity
Open source training tends to be about system administration, coding, and technology. One school is doing something different. The Rochester Institute of Technology offers a cross-disciplinary Free and Open Source Software minor to its students. One of the courses in this minor, Free and Open Source Culture, takes a step away from the programmatic side of things and looks more at the culture, ethics, and reasons for why working in the open is fundamental for software and communities.
RIT student and former Magazine star Brendan Whitfield came up with an interesting and creative way to teach fellow classmates about the differences between open and proprietary software. Using the idea of a trust model, Whitfield designed a curious invention, a box with a lock and an ethernet connector to which anyone on the class can connect their own computer. In this interview the contents of the box are revealed and Whitfield describes why he teaches open source culture and ethics with this interesting device. Read it to learn how the radioactive Strontium-90 is used. And—oh, yes—the box contains a Raspeberry Pi.
UCLA researchers develop sophisticated program to analyze thyroid health
About one percent of the U.S. population suffer from thyroid problems. There are a number of approaches to treatment and, even though the common tests can show numbers within standard ranges, the patients may still not feel well. The open source program, Thyrosim, can be used by clinicians, researchers, and educators to accurately gauge the impacts of thyroid treatments and to develop more effective remedies for thyroid problems.
This system can examine multiple sets of data at the same time for comparative analysis. It can also project the long-term impacts—up to 100 days—of individual treatment programs. Because Thyrosim is open source, researchers can adapt it for their own projects.
Publicly-funded software should be free
Europe's two main free software advocacy groups, April and the FSFE, argue that software specifically developed for or by the public sector should be made available as free software. The two NGOs will continue to push Europe's public administrations to increase the use of free and open source software.
In their reports, both NGOs extensively describe their many free software advocacy activities. The two organisations interact with local, national, and European public administrations and regularly collaborate in their advocacy. For example, on the occasion of the 2015 Free Software Day, the two groups joined others in calling on the European Commission to strengthen its open standards policy.
In other news
Thanks, as always, to Opensource.com staff members and moderators for their help this week. Make sure to check out our event calendar, to see what's happening next week in open source.
David Both is an Open Source Software and GNU/Linux advocate, trainer, writer, and speaker who lives in Raleigh North Carolina. He is a strong proponent of and evangelist for the "Linux Philosophy."

This work is licensed under a Creative Commons Attribution-Share Alike 4.0 International License.