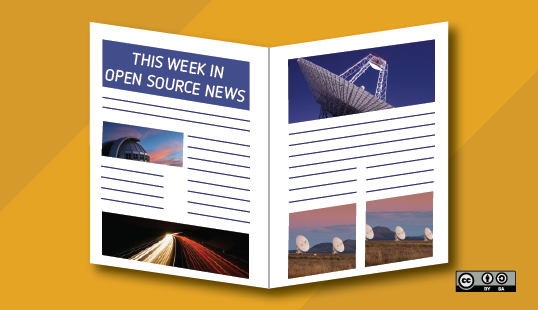 In this week's edition of our open source news roundup, we take a look at the new Civil Infrastructure Platform from the Linux Foundation, the White House to mandate open source, solving Asia's traffic problems, and more.
Open source news roundup for April 2 - 8, 2016
Solving Asia's traffic problems with open source
How do you solve traffic problems in two of the Philippines's largest cities? By turning to big data analytics powered by open source. ZDNet reports that the OpenTraffic initiative—a collaboration between rideshare service Grab, The World Bank, and the Philippines's Department of Transportation and Communications—aims to tap real-time traffic data to ease traffic congestion and address road safety issues."
According to ZDNet, OpenTraffic uses the FOSS tools to take GPS information from Grab's driver "such as traffic flows, speeds, and intersection delays" and use it to"identify road incident hotspots and improve emergency response time." OpenTraffic will soon be rolled out in Cebu City and Metro Manila, but will be made available in the near future to other government agencies and city planners across Southeast Asia.
White House to mandate government agencies open source their code
Following on the heels of its Federal Source Code policy (reported in a previous roundup), the White House is proposing "that federal agencies share software tools and release their code to developers." That, according to a report in ITPro Magazine.
Beginning in July, federal agencies must release at least 20% of the software they've developed as open source. The ITPro Magazine piece points out that this refers "to third-party code, as software developed in-house is designated as public domain by default." The 20% figure is just a minimum, as the White House is urging agencies to make public as much of their custom code as possible.
Some open source advocates, though, are saying that the 20% minimum isn't enough. Groups like 18F and the Alumni of Presidential Innovation Fellows are arguing that "a more comprehensive, 'open source by default' policy would allow agencies to reuse code instead of constantly re-developing it."
Linux Foundation announces Civil Infrastructure Platform
The Linux Foundation continues its mission to spread Linux and open source software with the announcement of the Civil Infrastructure Platform (CIP). Unveiled at the Embedded Linux Conference, CIP "is an open source framework that will support the development of software needed to run critical services that create the backbone of any modern society."
The Linux Foundation intends CIP to work with various core Linux projects "to create a 'base layer' of industrial-grade software," according to CIO Magazine. Using that base layer, developers will be able to quickly and efficiently speed up the development of civil infrastructure services while ensuring that the software they craft meets security and reliability requirements.
More important than that, the Linux Foundation intends CIP to be sustainable. According to CIO Magazine, the project will "establish a long-term maintenance infrastructure for select open source components, accounting for product life cycles of 10-60 years."
In other news
A big thanks, as always, to the Opensource.com moderators and staff for their help this week. Make sure to check out our event calendar to see what's happening next week in open source.
I'm a long-time user of free/open source software, and write various things for both fun and profit. I don't take myself all that seriously and I do all of my own stunts.

This work is licensed under a Creative Commons Attribution-Share Alike 4.0 International License.