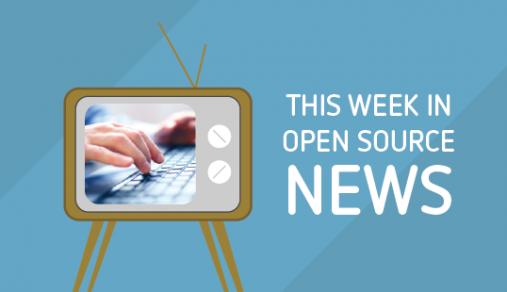 In this week's edition of our open source news roundup, we take a look at six higher education instructors who are immersing students in open source communities and projects, the co-founder and principal analyst at RedMonk Stephen O'Grady's remarks on the future of open source at the Collaboration Summit in March, and more news.
Open source news roundup for May 1 - 7, 2016
6 higher ed instructors focused on open source
Network World's Sandra Glittlen rounds up six higher education instructors who are immersing students in open source communities and projects. Learn more about them.
New York Institute of Technology: Richard Simpson, associate professor, School of Engineering and Computing Sciences
Rochester Institute of Technology: Stephen Jacobs, professor and associate director of the MAGIC (media, arts, games, interaction, creativity) center
Michigan Technological University: Joshua Pearce, associate professor, Electrical and Computer Engineering
Purdue University: Sabine Brunswicker, associate professor for Innovation and director of the Research Center for Open Digital Innovation
Western New England University: Heidi Ellis, professor in the Computer Science and Information Technology department
University at Albany: Patrick Masson, instructor in Informatics in the College of Computer Engineering and Applied Sciences
Open source is good for business
The Collaboration Summit was in March, where co-founder and principal analyst at RedMonk, Stephen O'Grady, said that the technology industry is "changing much faster than we've seen in the past due to the proliferation of high quality, free and open source software," according to a post on Linux.com.
"All of a sudden, for the first time, if I want to build anything, if I'm a developer, if I have an idea, I can just go do that," O'Grady said. "I don't need to go justify to my boss, "Hey, I need to buy a license for an operating system. Hey, I need to buy a license for a database," and so on. I can just go do it. This changes everything. This is a change that all of you have lived, all of you have helped fuel."
Open source software has evolved to the point at which it makes a good foundation on which to build a business. "The economics behind open source, and the changes that it will essentially (bring to) your business," he said, "the impact that it will have over time is enormous."
In other news
Thanks, as always, to Opensource.com staff members and moderators for their help this week. Make sure to check out our event calendar, to see what's happening next week in open source.
David Both is an Open Source Software and GNU/Linux advocate, trainer, writer, and speaker who lives in Raleigh North Carolina. He is a strong proponent of and evangelist for the "Linux Philosophy."

This work is licensed under a Creative Commons Attribution-Share Alike 4.0 International License.