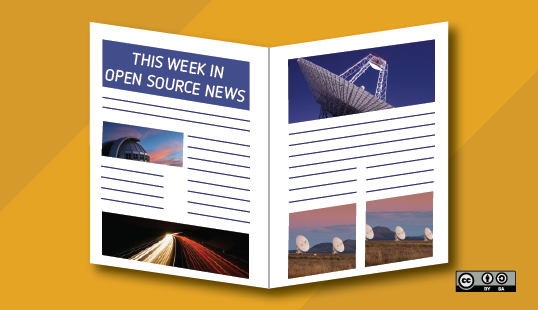 In this week's edition of our open source news roundup, we take a look at FireFox OS for IoT, NextCloud announcement, San Francisco open voting system, open scientific research in EU by 2020, and more.
Weekly news roundup for May 29 to June 4, 2016
Open source is IoT backbone
With the so-called Internet of Things (IoT) gaining more traction, developers and service providers are turning to open source software to provide IoT's backbone.
While Firefox OS was a bust as the operating system for phones and tablets, it's found a new life powering smart TVs. And now Mozilla is positioning Firefox OS as an IoT hub. Firefox OS will sit at the heart of four IoT projects for home automation, an Alexa-like personal assistant, a voice interface, and a web of sensors "to collate crowd-sourced data that will be openly accessible to all."
ownCloud, meet your fork: NextCloud
In April of this year, Frank Karlitschek (co-founder of ownCloud, the company behind the epynomous data storage and syncing software) split with the company. Since then, Karlitschek has been quiet about his next move. He broke his silence this week with the announcement that he's forking ownCloud. The result of the fork will be a new open source project called NextCloud.
The first release of NextCloud wil be based on version 9.0 of ownCloud, and will be available in July, 2016. That release will come with "with additional security and stability updates." CIO.com reports that NextCloud will be more than an open source project. Karlitschek is teaming with Niels Mache (founder of Spreed.ME, a video conferencing service) to form a new company, not surprisingly named NextCloud.
The company will offer subscriptions to enterprise customers. NextCloud according to ZDNet, a future release of NextCloud will also include video conferencing capabilities based on Spreed.ME.
San Francisco turns to open source voting system
The city of San Francisco is allocating $300,000 to start a "planning and development of an open source voting system," according to a report at GCN.com.
The move to an open source voting system makes sense, says city Supervisor Scott Wiener. Wiener told the local public broadcaster that "When you rely on an outside vendor, it's their technology, which is proprietary and confidential, and the public really doesn't have access to the code that they're relying on." On top of that, the city will own the system and be able to share the code with other governments at all levels.
The $300,000 dollars will lay the foundation for a new voting system. That system is estimated to cost San Francisco around $6 million dollars, spread over three years. However, that's far less than the $13.8 million for the first four years (in 2007 dollars) for its current system." San Francisco's Elections Commission expects the system to be ready for the elections in June of 2020.
European Union to open all scientific research by 2020
Open access to research is a hot, contentious topic in the academic world. As debates rage, the European Union decided to take action. It's mandated that all scientific articles published in Europe must be accessible by 2020.
According to the EU Presidency, the move came about because "EU member states want to achieve optimal reuse of research data." It means that by 2020, "scientific publications on the results of research supported by public and public-private funds must be freely accessible to everyone." On top of that, the data from that research "the data must be made accessible, unless there are well-founded reasons for not doing so, for example intellectual property rights or security or privacy issues."
In other news
​A big thanks, as always, to the Opensource.com moderators and staff for their help this week. Make sure to check out our event calendar to see what's happening next week in open source.
I'm a long-time user of free/open source software, and write various things for both fun and profit. I don't take myself all that seriously and I do all of my own stunts.

This work is licensed under a Creative Commons Attribution-Share Alike 4.0 International License.