2 readers like this
2 readers like this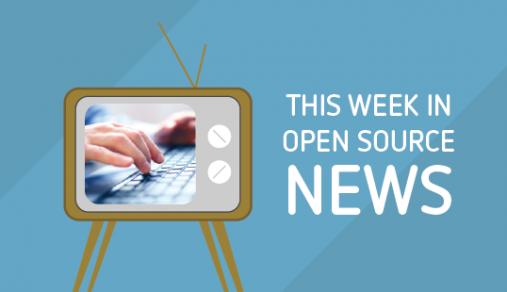 In this week's edition of our open source news roundup, we take a look at BMW teaming up with Intel and Mobileeye for yet more autonomous vehicle development, open source content management systems for IT, and more.
Open source news roundup for July 2 - 9, 2016
BMW teams with Intel and Mobileye for open source autonomous tech
The automotive industry is rapidly motoring towards an autonomous future—recent events with Tesla notwithstanding—and BMW is intent on leading the way. BMW has announced a collaboration with Intel and Mobileeye with a target of full-scale production by 2021. Not simply content with producing cars, the trio intends to create an open source autonomous technology that it hopes will become the industry standard. With a target of Level Three (hands off) and Level 4 (brain off) autonomy, that seems like a major challenge. Many of today's so-called driverless cars are only at Level 2 (lane keeping and self-steering), while a fully autonomous driverless vehicle would be a Level 5.
4 reasons an open source CMS should be appealing to IT
Proprietary content management systems (CMS) can be difficult to manage and maintain. In many cases this is because the proprietary software on which they are based is not well supported by the vendor for any of a number of reasons. Unfortunately this can lead to lack of capacity and flexibility for a company's web site—usually to the detriment of their business.
Open source CMS can resolve or ameliorate these issues. Between the large community of developers and the freely accessible code, companies are much more able to take control of thier on-line presence. Coupled with well recognized best practices, this can lead to improved responsiveness and scalability, enhanced maintainability, and greater empowerment for the marketing folks.
A complete Linux solution for schools
Debian Edu 8 is now available for for educational institutions that want to move to a Linux operating system. This version of Debian Edu sports KDE Plasma as the default desktop, with Mate 1.8 as an option. There are also versions that support both 32-bit and 64-bit hardware.
In other news
Thanks, as always, to Opensource.com staff members and moderators for their help this week. Make sure to check out our event calendar, to see what's happening next week in open source.
David Both is an Open Source Software and GNU/Linux advocate, trainer, writer, and speaker who lives in Raleigh North Carolina. He is a strong proponent of and evangelist for the "Linux Philosophy."

This work is licensed under a Creative Commons Attribution-Share Alike 4.0 International License.