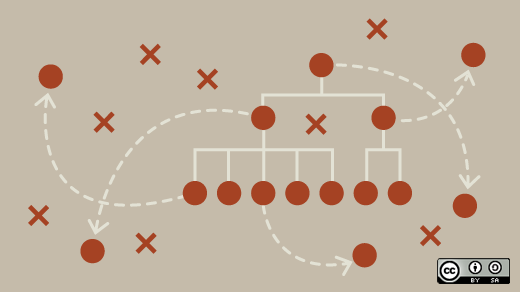 Week 3 of the Open Organization book club kicked off on September 14. The topic: "Chapter 3: Engaging People," in which author Jim Whitehurst discusses how to get the best out of your employees by convincing them to believe in a project or a company's mission.
As I wrote in my kick-off article, this passage from chapter 3 of The Open Organization deeply resonated with me:
If a key goal of the open organization is to build the capability for members to make their own decisions, act quickly, take initiative, and creatively solve problems, then engagement is critical. I've heard many times—and correctly, I believe—that a leader's primary job is to create context for his or her organization. As Howard Behar, former president of Starbucks, once said: "The person who sweeps the floor should choose the broom ... We need to get rid of rules—real and imagined—and encourage independent thinking."
Engagement can be powerful. It can channel the passion of employees and help shape or reshape a company. Laura Hilliger commented that "People should choose their own brooms, yes, but engagement is about asking people which broom they chose and why." Laura said a lot more, and her comment is well worth a read.
The Twitter chat, as usual, spawned a number of interesting questions and interesting responses. This time around, the guests included Chris Aniszczyk, Thomas Cameron, Jason Hibbets, Guy Martin, Charlie Reisinger, and others. They, and everyone else who took part, had a lively discussion about sparking and maintaining engagement—not just within a company but also in education and in broader civic life.
During the chat, participants made one point time and time again: passion and engagement are tightly linked. As Emily Stancil pointed out during the chat: "Engagement is the step you take to actually get involved and make things happen around your purpose and passion."
Here are some of interesting thoughts and comments from the Twitter chat:
"When people are engaged they find priorities that align with the mission." (Sam Knuth)
"Engaged employees are the decision making process. Leaders help drive only parameters of decision." (Guy Martin)
"Observe the energy flow. Engaged staff breath life into teams. Disengaged staff suck the life out of everyone." (Charlie Reisinger)
"Purpose and passion are individual targets, engagement is the team(s) working towards those goals." (Thomas Cameron)
"Engaged employees pay attention, they need less ramp up to get the info to help make the decision." (Máirín Duffy)
Join us on September 21 when Open Organization Ambassador Rebecca Fernandez kicks off Week 4 of the book club. We'll discuss "Chapter 4: Choosing meritocracy." You can also you join in the #OpenOrgChat on Twitter next Thursday, September 24, at 2:00 pm ET/11:00 am PT (18:00 UTC). The folks taking part next week will include Kim Jokisch, Brook Manville and others.
I'm a long-time user of free/open source software, and write various things for both fun and profit. I don't take myself all that seriously and I do all of my own stunts.

This work is licensed under a Creative Commons Attribution-Share Alike 4.0 International License.