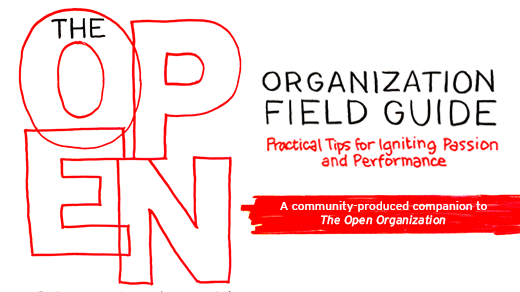 The Open Organization concludes with an invitation: "Join us on our journey by engaging in the discussion on Opensource.com," Jim Whitehurst writes. "We look forward to hearing from you there."
Readers, managers, leaders, and thinkers from around the globe accepted that invitation. And for six months, we've gathered here to chat about, debate, extend, challenge, and sharpen the ideas Jim advances in his book. The results have been astounding.
Since June, Opensource.com has published nearly 100 stories about the ways open source values are changing the way we work, manage, and lead. And today we're pleased to announce that we've collected some of our favorites into a companion volume, The Open Organization Field Guide: Practical Tips for Igniting Passion and Performance.
This is a community-produced handbook for navigating the quickly-changing context of organizational life in the 21st century. In it, you'll find stories from the trenches, tales from folks working tirelessly to implement open organizational principles. You'll see fresh engagements, people taking up Jim's ideas and pushing them in new, unforeseen directions. And you'll read about ways open organizational principles apply to new contexts—not just corporations.
The book is a free download, and we've applied a Creative Commons license to it—so you can begin sharing it right away. We're making a PDF available immediately, and ePub and ODT "source" versions are in the works.
As we celebrate six months of The Open Organization at Opensource.com, please take a moment to reflect on just how powerful and compelling our community has become. This book will help you do just that. If you have as much fun reading it as I did compiling it, then you're in for a treat.
Enjoy.
Download The Open Organization Field Guide: Practical Tips for Igniting Passion and Performance
Bryan formerly managed the Open Organization section of Opensource.com, which features stories about the ways open values and principles are changing how we think about organizational culture and design. He's worked on Opensource.com since 2011. Find him online as semioticrobotic.

This work is licensed under a Creative Commons Attribution-Share Alike 4.0 International License.