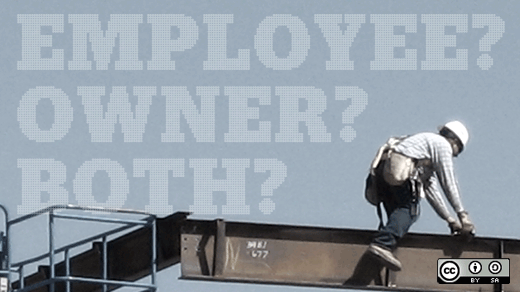 A leader's ability is the bottleneck of any organization.
That's something I learned through years of work for many different types of leaders. So when I founded my own company—Dancer Concrete Design, which specializes in enhancing interior environments through polished concrete floors and epoxy floor coatings—I knew I didn't want to become a bottleneck for innovation and communication.
All those previous bosses had something in common: They saw themselves as the "top" of an organization, and every idea or decision had to pass through them. In other words, they were bottlenecks. To avoid becoming a bottleneck myself, I had to embrace open principles.
I picked up The Open Organization after Verne Harish recommended it in his weekly newsletter. When I started reading, I realized this was going to be one of those books I'd be underlining all over, one I will have to review often to fully understand and implement.
But I knew this much: It presented a clear path forward for my fledgling construction company.
Scaling up
Because Dancer Concrete began as a company with one employee (me), all decision making naturally went through one employee (again, me!). At first, this was enjoyable. But as we grew to nearly 10 team members (we now have about 16, and we continue to grow), I started feeling like I didn't always have the best information or skill set to be accountable for so many things. The fact of the matter was that I knew my own capabilities well enough to know that I'd stunt my own company's success if I continued to want to be accountable for all parts of our business. And this would also stop others from growing in our organization—where I would be the leader and everyone else would just "do as I say." This type of environment does not allow others' potential to blossom, and it can can start to create the type of workplace where others don't want to go to work: a dead-end with no opportunities for growth in sight.
I started Dancer Concrete intending to make it a place people actually wanted to be every day, a place where they could enjoy what they did. Yes, our work can be physically demanding and sometimes our job sites can be abrasive, so the goal has always been to do the best we can while our team is together and to always be improving.
We started out trying to make our business more fun by little things like free snacks and drinks and going bowling together, but "benefits" like these are quickly lost if the work itself is not rewarding. People are smart and have unlimited potential, so it was important to also create an environment where they were important and contributing to something much more than themselves. We were looking to go deeper and have more impact in people's lives.
Concrete suggestions
Here's one thing I took away from The Open Organization: I needed a way to make certain people in our organization fully accountable for certain aspects of our company. This helped in two distinct ways:
We had people leading things in their individual areas of expertise, and they were much better in that specific role than I could ever be. This helps us grow and be a better-run company.
We had clear systems of accountability and knowledge of who was executing on their responsibilities on a consistent basis.
Let me explain one example of how our accountability system works. Every team that goes into the field to complete work is lead by a Field Team Leader. Really, being a Field Team Leader is one of the most important roles in the company. These people lead the teams that perform the work of installing the products we make. Every Field Team Leader is accountable for maintaining communication with our client during the installation process and making sure the client's needs are being taken care of (and their expectations are being met).
We accomplish this through daily communication, and we finalize a job by having the client sign off on the work and complete a survey about how we performed. We then share this survey data with the entire team, every week, and track these results as part of our key performance indicators. By sharing with the entire team, we make sure Field Team Leaders are accountable for the company's work in the field. It's not just their reputations on the line, but the image of the entire organization.
The Open Organization also stresses the importance of having open dialogue between team members. We do this with two meetings: a weekly team meeting and a monthly business growth meeting.
The weekly team meeting gathers all team members every Monday, first thing, at 7 a.m. (because we're in the construction business, our days typically start a bit earlier than most). In this meeting, we discuss last week's victories and challenges. We try to foster an environment where people can say "Hey, I messed up last week by doing this" without negative remarks or repercussions. We think there is tremendous learning from this kind of sharing.
Then, once each month on a Saturday, the team comes together for a business growth meeting, where we share our key performance indicators for the previous month. These numbers represent total sales, total proposals, quality score, and customer feedback. During this time, we discuss our wins and opportunities with the entire team, and we share ideas for improving or changing the items we should even be tracking. With the exception of employee compensation, our team has nearly complete access to all business-related data.
These meetings taught me something about misgivings people tend to hold about open organizations: These misgivings are based on fear—fear that competitors will find out information about one's company, fear that people share the "bad stuff" about that company, fear that someone will leave that company and become a competitor. Sure, these are all legitimate fears, but even if these things do happen, they don't outweigh the advantages being a more open organization.
Our journey toward being a more open organization continues. We're still finding new and innovative ways to apply lessons from The Open Organization.
And that means I'm never a bottleneck.
Owner/Operator of Dancer Concrete Design in Fort Wayne, Indiana.  Specilaizing in enchaning Interior Spaces with Stained + Polished Concrete Floors & Epoxy Floor Coatings.   

This work is licensed under a Creative Commons Attribution-Share Alike 4.0 International License.