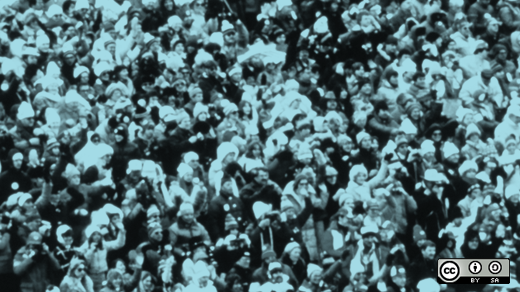 Working openly means designing for participation. "Designing for participation" is a way of providing people with insight into your project, which you've built from the start to incorporate and act on that insight. Documenting how you intend to make decisions, which communication channels you'll use, and how people can get in touch with you are the first steps in designing for participation. Other steps include working openly, being transparent, and using technologies that support collaboration and additional ways of inviting participation. In the end, it's all about providing context: Interested people must be able to get up to speed and start participating in your project, team, or organization as quickly and easily as possible.
Those of us involved in the Planet 4 project are committed to working openly. We've worked hard to create plenty of opportunities for others to contribute to the content, design, and development of the new Greenpeace.org. Our vision is to co-create this new online presence with the hundreds of thousands of supporters, volunteers, and staff members that make up the global Greenpeace community.
This is a big vision! How exactly does a small team of people coordinate with a global community? How can we make sure people can understand what we're building? How do we gather feedback and build the best Greenpeace.org we can build?
The answer, of course, is designing for participation.
Participative by design
Here's how we're doing it.
We've decided to use the Engagement Community Call to provide updates and gather feedback from the community. This call is a perfect fit. For months, participants have already been talking about storytelling, engagement, mobilization, and all things Greenpeace. The new Greenpeace.org will be one outcome of this ongoing conversation—radically open regarding our intentions and hopes, even in the planning phase. Participants in the Engagement Community Call are already accustomed to talking openly about our failures and lessons learned.
Everyone is invited to take part. We've taken the following steps to make our work participative by design:
Call dial-in instructions are available publicly on a wiki page.
We've published an open calendar of upcoming calls that anyone can easily download and add to.
We update our Call wiki page regularly, and it contains collective reflections on previous calls, so anyone can read about our progress and catch up quickly.
We publish our meeting notes in advance of each call, so everyone can prepare to engage (and shape the proceedings).
We're publishing on Medium and making announcements via Twitter—two popular networks that make following along as straightforward as possible.
Our next call is today at 11:00 Eastern / 15:00 UTC. Please participate.
We've specifically designed it so you can.
(This article is adapted from the author's previous writing, licensed under a Creative Commons license.)
Laura Hilliger is a writer, educator and technologist. She's a multimedia designer and developer, a technical liaison, a project manager, an open web advocate who is happiest in collaborative environments. She's a co-founder of We Are Open Co-op, an Ambassador for Opensource.com, is working to help open up Greenpeace, and a Mozilla alum. Find her on Twitter and Mastodon as @epilepticrabbit

This work is licensed under a Creative Commons Attribution-Share Alike 4.0 International License.