Get your copy of the full-color Open Organization Definition book.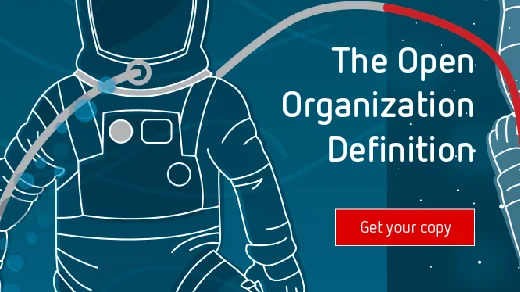 In April, the Open Organization Ambassadors at Opensource.com released the second version of their Open Organization Definition, a document outlining the five key characteristics any organization must embrace if it wants to leverage the power openness at scale.
Today, that definition is a book.
Richly illustrated and available immediately in full-color paperback and eBook formats, The Open Organization Definition makes an excellent primer on open principles and practices.
Download or purchase (completely at cost) your copies today, and share them with anyone in need of a plain-language introduction to transparency, inclusivity, adaptability, collaboration, and community.
The Open Organization aims to reshape the future of management and collaboration in companies and organizations who want to transform the way they do business. Red Hat CEO Jim Whitehurst wrote The Open Organization: Igniting Passion and Performance about his leadership transition from traditional management to an open organization.

This work is licensed under a Creative Commons Attribution-Share Alike 4.0 International License.
Download the Open Organization Definition
Now with full-color illustrations