The sixth volume of the Open Organization book series is now available.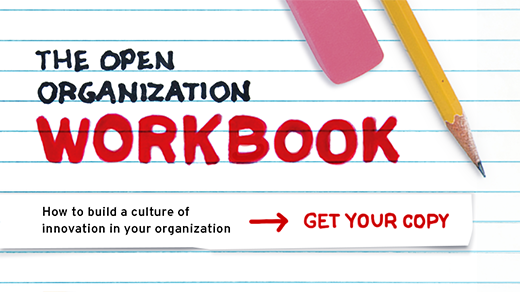 The open organization community at Opensource.com is proud to announce the immediate release of The Open Organization Workbook, the sixth book in the Open Organization book series.
The Open Organization Workbook features contributions from more than 30 managers, educators, technologists, consultants, and other experts, who offer concrete and actionable strategies for putting the principles of transparency, inclusivity, adaptability, collaboration, and community into practice.
This new book contains case studies teams can study and step-by-step exercises they can practice to sharpen their skills at working more openly. A digital, Creative Commons-licensed version is available now. A paperback edition will be available soon from publishing partner Lulu.
The open organization community welcomes your feedback on the new book, the source code for which is available on GitHub. If you enjoy the book and find it useful, the community invites you to share it.
The Open Organization aims to reshape the future of management and collaboration in companies and organizations who want to transform the way they do business. Red Hat CEO Jim Whitehurst wrote The Open Organization: Igniting Passion and Performance about his leadership transition from traditional management to an open organization.

This work is licensed under a Creative Commons Attribution-Share Alike 4.0 International License.
Download The Open Organization Workbook
Learn how to create a culture of innovation in your organization