Leading offline groups can be challenging. These three tips make it easier.
285 readers like this
285 readers like this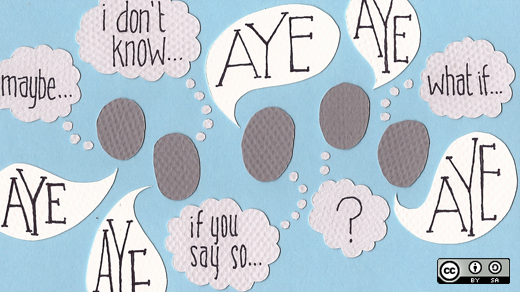 Participants in open source communities collaborate in online environments differently than they do offline.
Online, we open source enthusiasts tend to think participation is easy—as long as we're using open tools and have documented how people might get involved. We create structures, strategies, and mechanisms for soliciting peer-to-peer feedback and inviting participation. When interested people appear on our radar, we make an effort to reach out, encourage them, and see if they need help navigating our projects.
Offline, inviting participation also involves using structures and strategies to invite participation. But here the interaction model is different: Having humans in a room, where we can't filter our body language and sometimes say things out loud, is much messier. There's no "draft" or "send later" function when you're surrounded by people and have something to say.
As a creative facilitator, I know that using creative, participatory practices in meetings and events not only leads to better collaboration, more inspiration, and more learning but also empowers people and helps them level up their emotional intelligence.
Recently, my Greenpeace colleagues working on the Planet 4 project (the global redesign and development of the new Greenpeace.org and more than 50 national and regional sites) came together with the goal of "Moving from Research to Ideation." We did user research to determine what motivated people to act, and we were a little stuck on how to move forward.
So we arranged an in-person work week to jump start our creative thinking. Our secondary goal was to bond; because our team works remotely, most of us had never met before.
The meeting was successful, and and as I reflected on what made the week so great, I had to think about the planning that went into it. I've distilled three principles that can help you create physical atmospheres that encourage participation and connection.
Always prepare
Facilitating an event where people are looking to have a productive conversation or experience isn't possible without preparation. You need to plan—with the understanding that nothing will happen unless you create a safe space for people to participate.
Start by taking yourself out of the position of authority.
The first step to good preparation? Get to know the people you'll have at the event and the reasons they're there. You don't need to know everyone personally, but you do need to know enough about them to create suitable event objectives. Are you looking to create a software prototype for solving a particular problem? Or brainstorm and artistic concept? Or build a website? Whatever your reasoning is for getting people together, understanding the end goal is essential to planning a good agenda.
Elicit participation
Just as important as preparing a great agenda is a grounded and visceral understanding of the second principle: participation.
An open leader's purpose is enabling others to communicate, collaborate, and collectively solve problems using the skills and talents they have. Quite simply, your job is to empower people. The power dynamics of a creative workshop or session are, therefore, important. Since helping the group meet ites objectives is your job, you have to ensure that people are actually contributing to the best of their ability. There may be different types of personalities in the room, so it's also your job to make sure that those who speak more, those who speak less, and those who remain quiet are able to find their voices.
To achieve such an equitable and enabling atmosphere, you should start by taking yourself out of the position of authority. By creating participatory exercises and facilitating them as "just another" participant, you level the playing field for everyone at your event. You need to be flexible and go with the flow, but you should also be loaded with structures and strategies in case the flow stagnates.
I have a library of activities I remix for different audiences. Activities I use over and over again include the Spectrogram discussion technique, an activity that allows the participants to set objectives and a game to wake people up after lunch.
Remember your value
Being a creative facilitator of large groups (or even small groups) of people can be intimidating. You might feel like everything you say is magnified, or that people are unaware of the effort it takes to control a room and make it safe for everyone. You might feel like some participants are smarter than you or that the work isn't happening at the speed you planned for.
Learn about open organizations
Whatever sort of doubts pop in, just remind yourself that everyone has doubts from time to time and that you deserve to be there. You can solicit help from other participants and model the behaviors you want to see. Being you, with all the human and messiness that comes along with it, will actually make the event million times better. Your imperfections are what make connection possible. Embrace them.
An important thing to remember is that no matter how much you've planned or how often you've run a participatory workshop, each and every event is unique because the people in the room make it so. As long as you remain adaptable and try to give the participants what they need (and want) to meet the objectives of the event, you'll be a successful creative facilitator.
Laura Hilliger is a writer, educator and technologist. She's a multimedia designer and developer, a technical liaison, a project manager, an open web advocate who is happiest in collaborative environments. She's a co-founder of We Are Open Co-op, an Ambassador for Opensource.com, is working to help open up Greenpeace, and a Mozilla alum. Find her on Twitter and Mastodon as @epilepticrabbit

This work is licensed under a Creative Commons Attribution-Share Alike 4.0 International License.
Download the Open Organization Leaders Manual
The nature of work is changing. So the way we lead must change with it.