The history and evolution of marketing in open source demonstrates a need for new approaches.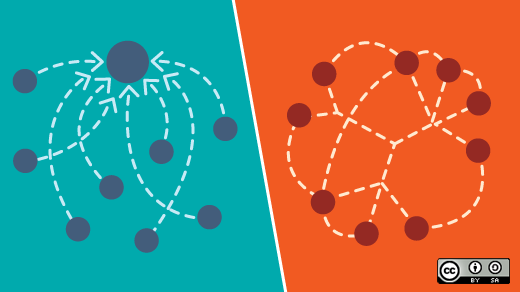 Sarah Conway and Greg Wallace are co-authors of this article.
Open source software (OSS) marketing today is unique: it's a process of co-creating and co-executing a marketing plan with an entire community—developers, end users and vendors. This makes it distinctly different than most traditional technology marketing efforts, which generally focuses on business decision-makers exclusively.
Learn about open organizations
OSS marketing has evolved since the emergence of OSS in the 1990s and early 2000s. It now includes the community at every step of the life cycle (a fact that shouldn't surprise anyone familiar with open source communities' expectations for inclusivity). It also outperforms traditional command-and-control approaches to marketing, because it's built on the strength and reach of project communities. A community that's bought into a marketing program will generate far more content than a marketing team alone can.
We aim here to describe a process for inclusive marketing that any technology marketer can apply to increase impact.
Key differences
OSS turned many tenets of commercial software development upside down. Open source marketing upends many assumptions of commercial software marketing in much the same way.
For example, commercial marketing teams often measure success with leads. They focus on the buyer persona. OSS marketing, in contrast, seeks to appeal to many more, and more diverse, stakeholders. Developers, maintainers, vendors, and end users are all critical to sustaining the OSS marketing effort. You can't visualize engagement with these stakeholders in a funnel or measure it with ROMI. But without their engagement, OSS marketing efforts will fail.
Open source today
Enterprise OSS started out as the business of creating open versions of established proprietary software products. The canonical examples are operating systems (Linux, BSD), databases (MySQL, PosgreSQL) and web servers (Apache).
We aim here to describe a process for inclusive marketing that any technology marketer can apply to increase impact.
These successes demonstrated the advantage of inclusive development to accelerate innovation. Today, most ground-breaking software originates as open source. In business blockchain, a new category, Corda, Ethereum, Hyperledger Technologies, and Quorum are all open source. In cloud, OpenStack, Cloud Foundry, and Kubernetes are open source. Several leading AI solutions are also open source.
The evolution of OSS, from commoditizing established markets to innovating in brand new markets, means that the approach to marketing OSS today also must evolve. Two models help explain how different marketing is with today's innovative OSS versus marketing OSS in established markets.
The first, depicted in Figure 1 below, is a generic Buyer (or in the case of OSS, Adopter) Journey marketing model. Adopters become aware of a solution, form a favorable impression, and try it. Then they adopt it—first in a limited way, then broadly. Finally, with satisfaction, they refer it to others and the cycle repeats. This kind of adopter-centric approach to marketing intersects ideal adopters (developers, vendors, end-users) on their preferred channels with useful content across their journeys.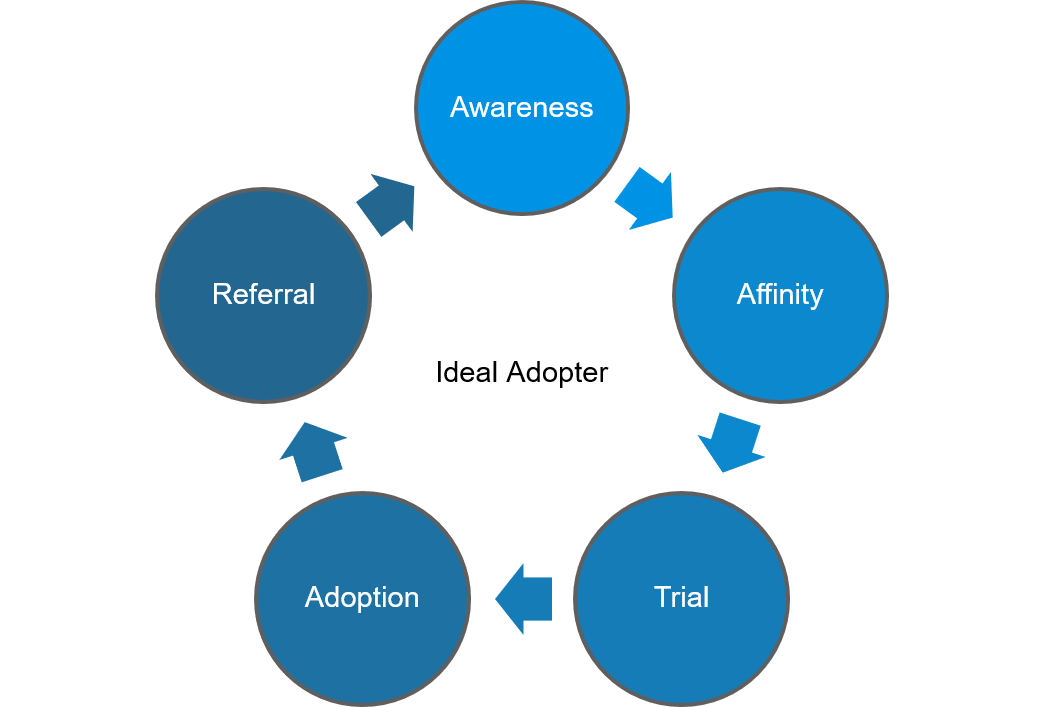 Figure 1 (Adapted from Duct Tape Marketing)
When MySQL emerged, the entire enterprise market already used databases, so no awareness-generation activity was necessary; people already understood the uses or benefits of using databases. MySQL could focus instead on convincing users that OSS wasn't only for geeks; indeed, many enterprises were already using MySQL without IT management's knowledge. These users saw the same, if not superior security, performance and scalability results.
Marketers didn't need to help potential users understand how databases could be used; they needed to persuade them that an open source database was safe to use. (As Stephen O'Grady writes in "The New Kingmakers," free access to OSS initiated this phenomenon of developers becoming more involved in enterprise technology acquisition and consumption decisions.)
So enterprise decision-maker marketing programs for MySQL differed substantially from, say, Hyperledger. Initiated in 2016, Hyperledger is an open source effort to advance cross-industry blockchain technologies. Hyperledger marketing activities therefore focused much more on a different kind of activity: introducing people to an entirely new product category. Figure 2 offers a high-level contrast of marketing approaches needed for marketing to enterprise decision-makers in an established category versus an entirely new one.
Adopter Profile: Enterprise Decision-Maker
Journey Stage
Early OSS, Established Market
Today's OSS, New Market
Awareness
Grassroots. Departments start using it, realize first-hand it's high-quality and word spreads.
Coordinated outreach through broad channels (blogs, social, events, media), leveraging early adopters and backers to amplify messages and raise awareness and understanding.
Affinity
Performance based on internal use. Seek reassurance that OSS is "enterprise-ready."
Engage with early adopters to develop industry-specific requirements, use cases and project-market fit. Technical education (white papers, etc.).
Trial
Tech trials already occurred.
Persona-based digital strategy to deliver user-friendly trial experience. Create platform for users, developers, and vendors to interact.
Adoption
Cost/performance comparison to proprietary incumbents.
Extend platform to include marketplace of ecosystem offerings for users seeking a full solution. Promote training programs and community job boards to ensure end users have access to talent.
Referral
Grassroots approach ensures viral word of mouth from inception. Case studies for commercial solutions.
Work with early adopters on case studies and other testimonial programs.
Figure 2
To examine the second model, let's look at the technology adoption curve. In the mature database market, for example, everyone was already using databases when OSS options emerged.
Conversely, today's OSS innovations in new markets follow the S curve seen in Figure 3 below. Marketers must tailor programs to appeal to the appropriate segment in sequential order, beginning with innovators and early adopters.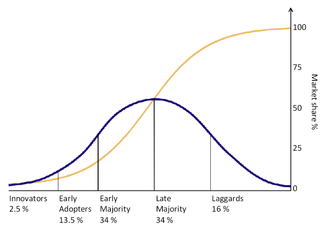 Figure 3
As OSS has moved from commodity to new markets, the importance and complexity of marketing has increased. An open approach is now necessary for addressing that complexity.
Why consensus matters how to build it
Open source marketing builds consensus on objectives, communications, and content strategy across varied project stakeholders—rather than mandate marketing objectives or plans from the outset. Through this engagement in consensus building, the community takes on a sense of ownership for marketing. This is essential to ensure that the community contributes actively to the expanded set of activities across the adopter journey that marketers must account for when marketing innovative solutions in new categories.
Consensus relies on shared goals and values and broad agreement. Working toward consensus helps clarify, refine, and crystalize shared values and goals. It reminds all parties that they have a voice in shaping those goals and values. That's why the path to achieving (near) consensus matters. Seeking opinions, even critiques, invites the community into the work. It's unlikely you'll achieve a state of complete agreement among all parties, but that's not the point, nor should it prevent a project from trying to reach consensus.
Open source marketing builds consensus on objectives, communications, and content strategy across varied project stakeholders—rather than mandate marketing objectives or plans from the outset.
A first step toward consensus-building is issuing a community survey to develop a shared understanding of outreach priorities. Respondents advise on key audiences, how their success is measured, where they go for trusted information, and important use cases they're seeing.
Participants should include developers, maintainers, and project founders (who have essential insights), community managers (and others who know the project ecosystem well), and business executives. Users might reinforce a strategy or refine it. Consider involving a few industry influencers, analysts or reporters who may bring different perspectives as well.
Follow Simon Sinek's advice and start with "Why" to draw guidance for the marketing strategy from your community. Our first survey question is "What excites you most about this project?" It's critical to hear directly from developers about motivations, aspirations, emotions that form the backbone of the project and project community.
Responses will help project marketers align outreach with the project's growth strategy in an open and transparent way. A next step is working closely with this core group of stakeholders to co-develop the program. Formalizing this collaborative process with an evangelism working group or messaging committee sustains engagement, ensures the project benefits from the community's expertise, and creates shared ownership of the program.
Be willing to be wrong
Several truisms about open source now almost seem cliche, such as the superiority of "the wisdom of the crowds" and the benefits of "standing on the shoulders of giants." More than cliches or truisms, we treat these as operational directives.
One can see the wisdom of the crowds play out in the number 80, for example: the average number of comments on a Node.js pull request tagged as "significant." Eighty backs-and-forths, 80 times to build off of another person's thinking. Eighty times to be a little wrong and a little right. Quality code emerges through the interaction of the community.
We apply this same principle when building community-based outreach strategies. We've learned that the best solution will emerge through dialogue. Taking risks and being willing to change one's mind stimulates dialogue. The strategy is already in the community—your job is to find it, help shape it, and leverage the community to amplify it.
What success looks like
We follow this process whenever possible and have seen it bear fruit in ways all marketers can appreciate. The community that helps create the marketing strategy helps execute it.
We see this with Hyperledger and the Node.js Foundation, among other projects. Corporate members and developers co-create the strategy, contribute valuable content, and carry the project's messages to their own communities and users.
One community-generated content example is the Node Foundation's Enterprise Conversation podcast series. This program highlights how companies like Netflix, Lowe's, SkyCatch, Twitter, and Google use Node. The massive Node community also engages in the Node Collection on Medium. Three volunteers edit this blog, and more than 30 volunteer writers drive more than 2,000 average unique daily visitors.
Consensus-building and harnessing the power of the full community are investments that deliver outsized returns in engagement and growth over time.
Hyperledger too sees excellent content contributions from its large community. The Developer Showcase blog series averages one community-contributed post per month. Due to the popularity of the series, Hyperledger now publishes two to three posts per month. The project's members also delivered more than 40 talks in Hyperledger's conference booths in 2017. Conference attendees want to know how companies use blockchain, so the community demystifies business blockchain with first-person accounts. Hyperledger also deployed technology experts from the community to speak 40 times at conferences, meetups and with the media in 2017.
Up-front engagement with the community to design the marketing strategy ensured robust participation such as this.
Community engagement strengthens ecosystems
Given these clear benefits, why not embrace community-driven marketing?
The kind of open marketing we've described here is far more than decision by committee. Consensus-building and harnessing the power of the full community are investments that deliver outsized returns in engagement and growth over time. They help ensure the project's communications and outreach programs are innovating as rapidly as the technology is. And by tapping the knowledge, enthusiasm, and capabilities of the full community, open source marketing directly contributes to project sustainability.
Community-inclusive OSS marketing outperforms siloed and closed approaches. It results in high-quality, authentic, community-generated messages and content that adopters and key stakeholders value. Embracing this approach requires a change in thinking. Most important among the changes is letting the community take the lead.
Sarah is Sr. Director of PR Services at the Linux Foundation where she works with several large, growing open source communities like Kubernetes and Node.js to create high-impact communications programs.
Contributors

This work is licensed under a Creative Commons Attribution-Share Alike 4.0 International License.
Download the Open Organization Leaders Manual
The nature of work is changing. So the way we lead must change with it.